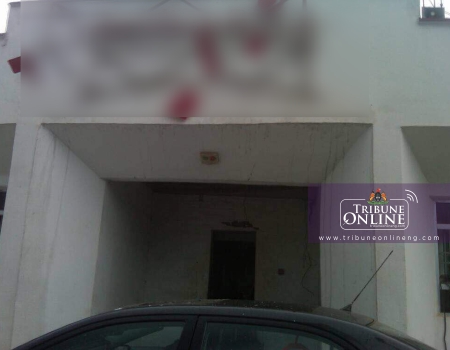 Tragedy struck in Iwo, Osun State, when daredevil armed robbers stormed the ancient town and robbed three of the new generation banks in the community, using dynamite to break the bullet-proof door of one of the banks.
The incident which happened close to Bowen University around 2:15 p.m., left many people injured with four policemen killed.
However, an eye-witness report said a robber and a passerby were also killed.
The report added that the incident lasted for about one hour, with the robbers shooting sporadically into the air while the robbery lasted.
Other accounts stated that the daredevil armed robbers stormed one of the new generation banks in the community and used dynamite to break the bullet-proof door of the bank.
Sources informed Tribune Online that the robbery gang began their operation at around 2:15 p.m, when over 10 of the heavily armed gang stormed a popular first generation bank and started shooting sporadically to scare people away as they headed towards the bullet-proof doors leading into the banking hall.
The bank which is located directly opposite Bowen University, Iwo, was said to have been riddled with bullets from the heavily armed robbery gang.
A source, who pleaded anonymity informed that residents, shop owners and passers-by ran in different directions to escape the scene of the robbery.
According to the source, a young boy was unlucky as he was hit by bullets in the leg in his bid to flee the scene of the incident.
The source stated further that: "One of the robbers was killed by the policemen attached to the bank. But the robbers shot dead four policemen during the robbery, which lasted about 50 minutes. It was like a war front as the deafening sound of gunshots rented the air. Everybody had to run for his life because of the tension created by the robbers."
Efforts to get the reaction of the CP to the incident were unsuccessful as several calls put through to his cell phone ranged out without a response. Similarly, the mobile phone of the Police Public Relations Officer (PPRO) of Osun State Police command, Mrs Folasade Odoro was switched off as of the time of filing this report.
But confirming the robbery to the News Agency​ of Nigeria (NAN), the police spokesperson,  DSP Folashade Odoro, said the incident claimed four policemen.
Odoro said the  Commissioner of Police in the state, Mr Fimihan Adeoye,  as well as top officials of the police and  DSS were presently in Iwo to deliberate on how to apprehend the hoodlums.