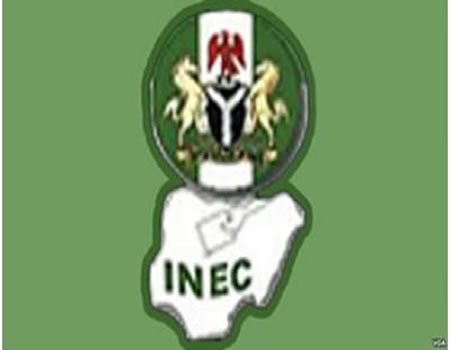 AGAINST the backdrop of the 
September 22
 governorship poll in Osun, the Independent National Electoral Commission (INEC), on Friday published the final list of all the gubernatorial candidates and running mates, participating in the exercise.
The list showcasing the names of the governorship candidates and the running mates of all 48 political parties was pasted on the notice board of the commission, located almost opposite the Osun State House of Assembly Complex, Osogbo, the state capital.
When Saturday Tribune visited INEC state office, politicians and passerby were spotted catching a glimpse of the final list pasted beside the Form EC 60A, which contained the notice of the election.
Details of the list signed by the acting secretary of the electoral body, Mr Okechukwu Ndeche, indicated that the gubernatorial candidate of the All Progressives Congress (APC) is Adegboyega Isiaka Oyetola who holds MBA and his running mate, Mr Benedict Olugboyega Alabi with MSC.
Others include the standard bearer of the Peoples Democratic Party (PDP), Ademola Nurudeen Adeleke holding West Africa Examination Council (WAEC), with his running mate, Albert A. Adeogun, who holds BSC, MSC and LLB. The governorship candidate of the Social Democratic Party (SDP), Iyiola Omisore holds Phd, while his running mate, Lawal Azzez Olayemi submitted his BSC degree.
The candidate of the Action Democratic Party (ADP) holds BSc, while his deputy governorship candidate parades PhD. The standard bearer of the African Democratic Congress (ADC), Fatai Akinade Akinbade holds PGD, while his running mates submitted LLB, BL, LLM credentials.
The candidate of the Alliance for Democracy (AD), James Olugbenga Akintola holds MSC, just as his running mate, Abdulhakeem Oyeniyi Bello submitted his credentials for his BSC degree. Kehinde Olufemi Lawrence of the All Grassroots Alliance (AGA) holds LLB, BL, while his running mate, Lawal Olaseyi Afusat submitted her NCE credentials.
The flag bearer of the Unity Party of Nigeria (UPN) for poll, Adediji Olanrewaju Adewuyi holds BED, while his running mate, Alabi Olaolu Adeniyi submitted his SSCE certificate, among others