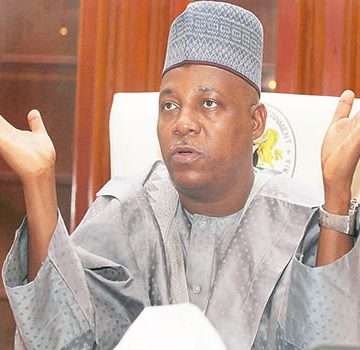 ACTING President Yemi Osinbajo on Monday met with Governor Kashim Shettima of Borno state and security chiefs over the reconstruction of Bama town in Borno state which was devastated by Boko Haram insurgency.
At the meeting were Chief of Staff to the President, Abba Kyari, Minister of Interior, Abdulrahman Danbazzau, service chiefs and heads of para-military agencies.
Speaking to State House correspondents after the meeting, Presidential Villa, Abuja, Shettima, said the session was an exploratory meeting to enable the relevant stakeholders to share ideas on the rebuilding of the North East.
According to him, "it was an exploratory meeting for us to cross pollinate ideas on the rebuilding of the North East. The federal government has magnanimously decided to support us in the Bama initiative, a very beautiful pilot scheme which we hope will be replicated in all parts of the devastated North East."
He explained that the Bama initiative was restoring the dignity of people in the area and rebuilding infrastructure to give them hope.
The governor noted that rebuilding infrastructure would be a game changer in the area, adding that the federal government was desirous of assisting in the process.
On the incessant bombings still going on in Borno state, Shettima argued that it was no longer constant.
According to him, "Well it's not constant per say. If you juxtapose the sorry state of affairs two years ago with the current state of affairs, there is cause for celebration to me personally.
"Even these suicide bombings is a sign of weakness on the part of Boko Haram. Two years ago, they were holding unto 22 out of 27 local government areas.
"They have been sufficiently decimated. I am not under rating their capacity in the state but these are lunatics who bask on the opportunity of publicity to kill and maim so that they can get greater regard in the global Jihadist community.
"Definitely, we are also coming up with robust response towards addressing this issue of suicide bombing.
"We have challenges no doubt about it. I am not actually discounting that fact, but when you put it in proper contest, you will see that a lot has been done,
"They have been sufficiently decimated so that they can no longer hold on to any territory in the Nigerian federation."