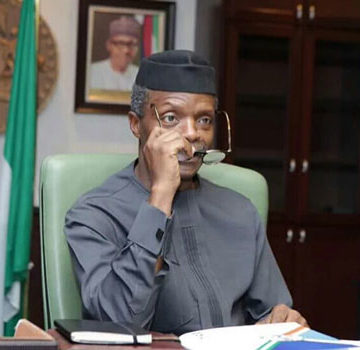 ACTING President Yemi Osinbajo will, today, speak on food security and Nigeria's preparedness to diversifying its economy using agriculture as a lever.
Professor Osinbajo will lead other dignitaries and leaders from scientific research, education and corporate organizations from African countries and beyond to the International Institute of Tropical Agriculture (IITA) in Ibadan, Oyo State, celebrating its 50th anniversary.
He will be joined by former heads of state, General Yakubu Gowon and Chief Olusegun Obasanjo, who is also IITA Goodwill Ambassador.
More than 300 international, regional and national experts are expected at the event, which will further unveil the country's thinking towards agriculture, especially in the context of economic diversification.
Osinbajo will also speak on the critical role of the Africa's biggest international agricultural research institute in the transformation of Africa's agriculture.
The IITA Director-General, Dr Nteranya Sanginga, said the world is waiting for Nigeria to take leadership in the agricultural space, adding that the acting president's message would be helping participants to understand the country's agricultural development agenda.
Also at the event, the president, African Development Bank (AfDB), Dr Akinwumi Adesina, will inaugurate a new training facility for capacity development for youth agripreneurs
Funded by the Federal Ministry of Agriculture and Rural Development and IITA, Dr Adesina will inaugurate the $700,000 youth training facility comprising two major training rooms that can conveniently sit 50 trainees each, with two offices that can also  sit 30 interns each and 20 standard sized offices.
Chair of the IITA50 organizing committee, Dr Kwesi Atta-Krah, said the celebration of the 50th year of IITA in Africa was an opportunity to examine the future of agriculture and the role IITA will be playing, especially  regarding emerging challenges of climate change, pests and diseases, and rising youth unemployment.