Prayer is key. Prayer is the master key. Jesus started with prayer and ended with prayers.
This is one of the songs which Jesus Christ's adherents love most and they can go anywhere outside their homes to present their supplications to God.  Thus several mountains, hills, and ridges dot the landscape of Nigeria where Christians scramble to for vigil, special praying session and deliverance services.
Some do not restrict their search for a divine place of prayers to Nigeria: they go as far as Rome, Jordan, Jerusalem and Bethlehem to the holy grounds where testimonies of prayers being answered have been told
However, here in Nigeria and maybe unknown to many, Ikare Akoko, a historical and ancient city in Ondo State which celebrates a festival of fertility, Aringinya-festival-is also the city where God raised the first ever angel on earth – Moses Orimolade Tunolase, to pioneer and establish the Sacred Order of the  Cherubim and Seraphim Church in the world.
I used to abscond from school to engage in street dancing — Onyema, Air Peace Chairman
Moses Orimolade Tunolase's story is that of a special being created by God for a special reason which is healing, evangelism and miracle.
Moses Orimolade Tunolase was born in 1879 into the royal family of Ayibiri in Ondo State of Nigeria. Orimolade could neither stand nor walk until he was well over five years of age. In an effort to get Orimolade the help he needed, his parents had taken him to St. Stephen's Anglican Church, the only church in the Yoruba town of Ikare in Western Nigeria at the time.
Orimolade was often left in the custody of the clergyman at the Church Missionary Society establishment of the Anglican Communion. One night the minister observed a strange light in the church and heard singing coming from inside. The minister discovered that the building was empty, except for Orimolade, who was about five years old at the time, sitting on the floor of the church in bright phosphorescence.
At the age of 12 years, Orimolade had a dream in which he was presented with a rod, a Royal Insignia and a crown. He woke up with a personal conversion to the Christian faith and a conviction of his calling to preach the gospel of Jesus Christ but his evangelistic mission did not begin until after a period of seven years in confinement. Some of his close associates at the time attributed this confinement to a protracted illness while others regarded it as a period spent in training and preparation for his missionary work. Orimolade emerged from this confinement with partial recovery of the use of his legs and a remarkable ability to pray and preach the King James Version of the Bible that had been translated into his own native Yoruba language.
Orimolade started his missionary work as an itinerant preacher in Ikare, his Yoruba town of birth, with no formal education. He openly confronted witches and wizards in Irun (another Yoruba town) and pulled down the image of Osijora, one of the idols worshipped in the village. He condemned the prevalent practice of human sacrifice in Benin City. He consecrated a pool in Kabba town and rid it of the evil spirit the villagers had worshipped. Orimolade converted many to the Christian faith. Traditional worshippers willingly gave up their charms and images for burning in response to his preaching and prayer. He directed his converts to the existing churches, irrespective of denominations, and where no church existed he helped establish one. Some of the churches established, by Orimolade were actually established for the Church Missionary Society.
Many mysteries are woven around Orimolade. He was said to have possessed a supernatural power that no one ever had. According to Most Superintendent Kunle Ayanfe, Orimolade was said to have been a special person with supernatural power. He would get to where he and his group were going before anyone of them and they wondered how. Till he died nobody was able to unravel the mystery. According to Ayanfe, some white men who heard about his good works came to approach him to come and heal their boss overseas. Orimolade refused to go with them in the aircraft they brought and promised to meet them there. Before the white men got there, he had gone and come back. When the messengers got to their boss and saw him healed and bouncing, he told them he had been healed by a man whom he described with the features of Orimolade, the man they came to meet in Nigeria. He had the power as he used to pass through the rock and water while people wondered how he managed to perform such a feat.
This and other mysterious stories about Orimolade were corroborated by Prophet George Orimolade Tunolase, Arole Moses Orimolade Tunolase, who now administers the house in which Prophet Moses Orimolade Tunolase was born, raised, lived and where he set off for his evangelistical journey outside Ikare.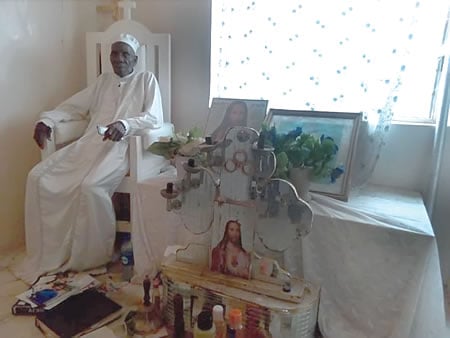 The house, located opposite the palace of the Owa Ale of Ikare at Okorun Street, Ikare Akoko, has been painted in white and enjoyed a bit of renovation.
Except a patent medicine store shop in the house, and a borehole which was donated by the Sacred Order of Cherubim and Seraphim Church, no order activities take place in the house.
According to Prophet George Orimolade, "The House has been dedicated to the soul and spirit of Prophet Moses Orimolade Tunolase. There is a room with an inner cubicle like an anteroom, the very room where Prophet Moses Orimolade Tunolase slept, stayed and lived. It is in the room as he prayed and interacted with God. It is very sacred where no sexual or immoral act has ever taken place.  You know he had no wife. He dedicated himself to the evangelisation of the word of God."
"Since his death in 1933, the room has been hosting unseen agents who sing and pray in the dead of night.  Thus it has remained a sacred prayer room for all people of different nations who scramble here to pray. The testimony is that there is no prayer held here that God has never answered. That is a fact. It is not about somebody praying and seeing visions. No. They walk in, pray fervently to your God with your mouth and you experiencing the grace of the Lord from that moment."
Prophet George Orimolade, who is the guardian prophet of the place and who lived in an old one-storey building which is clamouring for renovation behind the Moses Orimolade house said, "we have no authority to task anybody who comes to pray here. We are just the custodian of a sacred place where God answers all prayers. I pray for people if they wish I should. We do not bill or ask you for a penny unless your conscience tells you to do. However, it is about prayers and thanksgiving. When you pray and supplicate to God and it comes to pass, it is spiritually necessary to come to the House of God or where you made the vow to   do the thanksgiving "
The sacred room of Moses Orimolade has nothing as fantastic or magnificent as found in other such places. It parades his picture, Bible, candle post among other items.
Giving a testimony about the essence of thanksgiving as related to sacred places, Rita Orimisan, a London based Nigerian lady who called this writer immediately a picture of the house was posted on the internet said, "I am telling you that it is true. When you make a vow to Almighty God in such a place, kindly ensure it is fulfilled. I remember when, was not able to get a husband or even get pregnant for 10 years.  I had gone to visit several spiritual places in vain for a decade, I met a lady at an African store here in London who called me and said, 'Young lady, can you ask your mum why, where and what kind of  a vow she made before  God blessed  her with you gift as the womb? When I asked my mum, she was shocked. Then, she told me the entire story about a vow she made at a Sacred Order of the Cherubim and Seraphim Church, after several years of childlessness. And I ensured the fulfilment of the vow. Look, to God be the glory, everything started manifesting in cascades. All that I had been searching for happened withen a year. I got a very good husband, a baby and a fantastic good job, Olorun Kerubu mo wa dupe."
And as the writer and his friend were led to the prayer room, Prophet George Orimolade urged them to tell God with their own mouths their own heart's desires which he later capped with prayers as demanded by one of them.
There was the determination to come back with hearts of gratitude to bless the late Prophet Moses Orimolade Tunolase House, Okorun Street, Ikare Akoko, where God answers prayers.