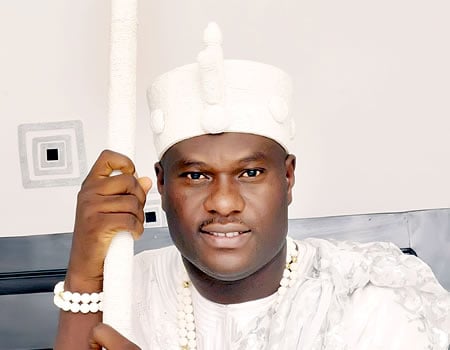 THE Ooni of Ife, Oba Enitan Adeyeye Ogunwusi has tasked Nigerian youths to explore the opportunities inherent in Information and Communication Technology (ICT), with a view to enhance their individual capacity development and prepare them for future leadership responsibilities.
He underscored the need for the youth to be conscious of their roles and potential leaders of tomorrow, saying they should key into global vocational and technological revolution as a critical prerequisite germane to make a positive difference in the social and economic growth of the nation.
Oba Ogunwusi gave the charge during the 3rd Ife Youth Economic Summit and hand-over of Ife Digital Job Centre by the Federal Government held inside Oba Okunade Sijuwade Memorial Hall, Enuwa, Ile-Ife, Osun State.
The summit with the theme; "Youths Unemployment and the Challenges of Enabling Empowerment-the way forward for Nigeria" had in attendance
the representatives of the Federal Ministry of Science and Technology, Federal Ministry of Labour and Productivity, National Information Technology Development Agency (NITDA), as well as political and captains of industries.
In her address, the Permanent Secretary, Federal Ministry of Labour and Productivity, Mrs Ibukun Odusote implored the participants to tap into the golden opportunity that the training would offer them to become entrepreneurs, maintaining that the Federal Government was ready to support innovation and technology drive, capable of assisting the country to be at par with other nations in terms of technological advancement.
Odusote challenged the trainers on the need to teach the youths engaged on how to market their products online, disclosing that the federal government  Government and its agencies would purchase Ife ICT products for use in other parts of the country such as Niger, Nasarawa states and Abuja.
ALSO READ: 2019 Election: Seek support, don't depend on me for victory, Ibori warns aspirants
While addressing the participants, the Director General/CEO, NITDA, Mr Isa Ali Ibrahim Pantami emphasised the relationship between ICT and employment, saying, the success story of the economy of the Asian Tigers was attributable to revolutionary development in ICT.
He affirmed that the acquisition of ICT skills had become a global requirement in employer-employee relations while the growth, pointing out that the stability of the Nigerian economy is dependent on the employment of the youth.
Earlier, in his welcome address, the Special Assistant to Ooni Ogunwusi on Youth Development and Wealth Creation, Olamide Awosunle hinted that this year 6-week ICT training would afford 100 youths in Osun State to acquire ICT and business skills that will make them globally competitive as well as give them the opportunity to create new wealth, adding that they would also be trained in web and software development."