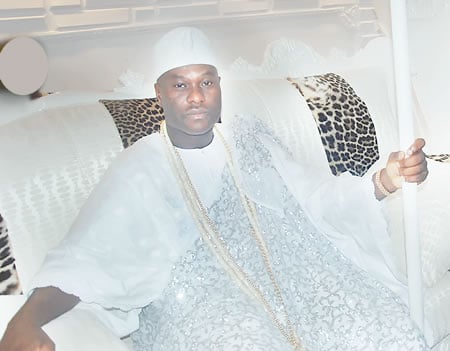 THE Ooni of Ife, Oonirisa Adeyeye Enitan Ogunwusi Ojaja II, has partnered with Empower 54, a non-profit organisation, to create awareness and promote solutions to end malnutrition in Africa, which currently kills 2.3 million children annually in Nigeria.
"After we evacuated the severely malnourished IDP children from Bama to Maiduguri on June 13th and 15th 2016, we realized more has to be done to save children suffering from Severe Acute Malnutrition (SAM) beyond evacuating them from high risk zones for treatment. There are countless non-IDP children suffering from SAM all over Nigeria and other parts of Africa that also need help", the Founder and President of Empower 54, Princess Modupe Ozolua told newsmen in Abuja.
It will be recalled that the Minister of Health, Professor Isaac Adewole has declared that "one-third, 33% of Nigerian children under five years old suffer from chronic malnutrition" which translates into very disturbing statistics and many innocent lives lost due to lack of sensitization on early management of malnutrition and accessibility to free treatment.
She said due to Ooni's dedication to humanity, the traditional ruler has agreed to lend his voice and passion to the campaign to eradicate malnutrition in Africa, especially in Nigeria and the Democratic Republic of Congo.
Princess Ozolua quoted Ooni of Ife of saying "the menace of malnutrition is creeping deeper into the fabric of our society and we must be tenacious in our fight against this colossal beast by creating a better mechanism; adopt policies and strategies that are capable of combating its rapid expansion.
"Africa is the wealth of the world with huge human and natural resources and we must form a consensus that would scale up nutrition projects for the greater developments of future leaders that are being crippled daily by our collective negligence."
"As the Co-Chairman of the National Council of Traditional Rulers of Nigeria (NCTRN), we require holistic and systematic global blended approach in addressing the shade of malnutrition in Africa. I recognize and applaud months of intervention of Empower 54 in subjugating the spread of malnutrition in Nigeria and across Africa.
"Therefore, in an effort to forge greater participation, it is my sheer commitment and other global partners to advocate alongside the long-term collective aspirations of Empower 54 in championing malnutrition extinction roadmap in Africa", he stated.
Empower 54 will be working closely with His Majesty's organization, Global Outreach (Ooni of Ife Global Outreach) Initiative, on strategies for his role as Empower 54's International goodwill Ambassador to end malnutrition in Africa.
As a global goodwill ambassador for Empower 54, The Ooni of Ife joins His Emeritus Archbishop Desmond Tutu (Patron of Empower 54) and Hollywood actress, Kat Graham (Empower 54's goodwill ambassador for IDPs/Refugees) to work towards impacting lives of underprivileged Africans.
Empower 54 Project Inc (Empower 54) is a US non-profit organization providing humanitarian assistance since 2003 through health, education, empowerment, and IDP/refugee programs to underprivileged Africans.