Onu urges investors to develop interest in indigenous inventions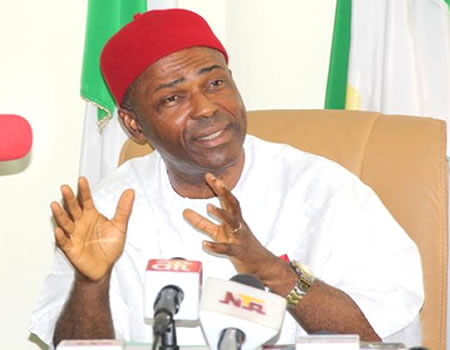 THE Minister of Science and Technology, Dr Ogbonnaya Onu, has called on Nigerian investors to develop interest in indigenous inventions and creativity to boost productivity and economic development of the nation
He made this call when a delegation from the University of Jos, Plateau State, made a presentation of UJ Maths Graphing (UJ-MaGT) to him in his office in Abuja.
According to him, the ministry had commenced the process redirecting the economy with a view to setting standards in commercialisation of the inventions, and changing the national consciousness of Nigerians to embrace science and technology as a true driver of the economy.
The minister added that science and technology was playing a pivotal role in shaping the future of humanity, and urged Nigerian parents to encourage their wards to develop interest in science and technology, adding that this was one sure way to secure their future.
Dr Onu said that innovators in apps application must invent ways and means to aid the youths in the field of Mathematics, Economics, Medicines and other disciplines.
The minister said that the time had come for Nigerians to key into home-grown technology, as rich economies of the world did not rely on resources, but rather anchor their GDP on knowledge-based economy.
Dr Onu then called on indigenous creativity that would culminate into Nigeria leading the pace for other nations of the world to follow.
He also called on Nigerian investors to show interest in the nation's inventions as this was the only path to economic development.
In his remarks, the Associate Professor, Department of Mathematics, Jabil Yakubu, said that the department researched and developed the apps application named University of Jos Maths application, which was graphical in nature and could be used for statistical works, for drawing graphs and inferences.
He said that the apps was developed to ease the difficulties experienced by students in tertiary institutions in plotting graphs in order to plot research findings accurately.  The apps, he said, was developed in form of Algorithm  Mathematics  in order to plot graphs to solve equations in graphics statistics and other fields of mathematics.