'Only God's intervention can deal with coronavirus'
Senior Pastor of the World Assembly Church, Owonmanma, Imo State, Achilles Edwards, in this interview with SEYI SOKOYA, speaks on the solution for the coronavirus attacks across the globe and the church, among other issues.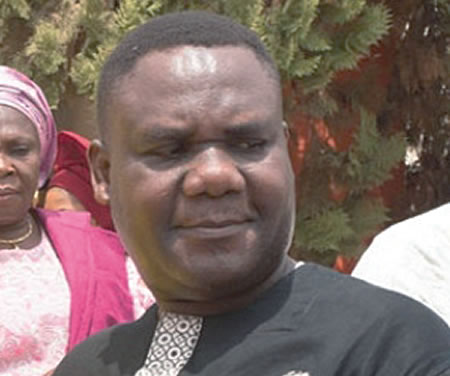 Some have claimed that the current coronavirus attacks, which has posed a serious threat to the entire world is a warning and punishment of atrocities and ungodly acts by the  human race. How will you react to this? 
The virus did not come from God, because He had warned us in the Bible, precisely in the book of 1Peter 3:13: "and who is he that will harm you if you be a follower of that which is good?" John 1:4 also says: "In Him was life and the life is the light of men and the light shine in darkness and darkness cannot comprehend it". This background makes us understand that we had been with related challenges like this from time memorial. It is just that the devil knows his time is up and he is looking for a way to torment mankind by every means. But John 3 VS 16 says: "For God so love the world that whosoever believes in Him should not perish," and this has been our saving grace. The only immunity we have is in Christ and that is why the Bible says that 'if a man be in Christ, he is a new creation; old things have passed away, all things have become new.' So, it is not from God, but from the devil. He has always been trying to wipe out mankind as well as to bring as many people as possible into his kingdom.
The virus is from the devil and not from God. For those who believe in God, coronavirus will not come close to them. There have been worse diseases than coronavirus and we are still alive.
Meanwhile, we can also say that God may be using the situation to bring many people to Him. People don't know what to do anymore and the world is confused now. It has even affected the football world; most matches have been postponed. They are discouraging gathering, but that will not affect the church.
Are you saying that churches which involve huge gathering can't be affected?
It will not intimidate us; it is the devil that is bringing that, so, we will not be afraid as long as we know that we are inclined. Imagine if Christ was on earth, will He close the church because of this? Or if Apostle Paul was on earth, would he close the church? That is why the church is in place, we are called the light of the world.
I am not saying that people should not take precautions. We operate at different levels of faith; when a person is sick, he/she is advised to take drugs, and some have got to a level where they don't need to.  At this point now, affliction will tell; if you are not at that level, you need precautions.
With your claim that the virus is the handiwork of the devil, what do you think should be done to eradicate it?
Agencies, groups, scientists have said they have found an antidote, but we don't know how true that is. In my opinion, it is a lie. In the days of Ebola, until it was eradicated we didn't hear of any antidote. There were was only preventive measures. I don't know if there is any cure for cancer, they are still researching. The only way to stay away from it is the old message of God that people don't want to hear. We cannot be wiser than our creator; He made us, so, we cannot understand ourselves more than He does. He said we should embrace Him. The book of Proverbs said it: "the name of the Lord is a strong tower, the righteous run into it and are safe." Psalm 11:3 also made it clear: "if the foundation is destroyed, what can the righteous do?"  If we don't do what we are supposed to do, we will remain in trouble and there is nothing God can do about that.  He has been warning us and that is why we have pastors everywhere. There is no nation in the world that doesn't have a pastor and they are preaching to us. The only antidote is for people to accept Christ and go into prayer to know whether researchers will come up with something, at least to save those ones who do not want to accept Christ. God will have mercy on them; He will not want them to die. He is God over all, believer or not.
Despite the fact that we have lots of churches and pastors in the country, we hardly experience instant miracles, even evangelism has taken a different dimension. Why is it so?
We will not. Apostles in the Bible did not come to pursue the things of the world. God cannot be mocked. He sees everything and looks at the heart. He knows our ulterior motives, so, He cannot be deceived. There is no genuine revival or move of God in our present days. That is why evangelism is beginning to piss people off. A lot of things that happen in the church now have discouraged people from going to church anymore. We hear stories of pastors doing all sorts of nonsense. There are lots of problems in this country; God has sent us to do a lot. We are the light of the world. We are here to show love; that is what Jesus preached when He was on earth. The people that took over from Him also continued to show love to the world. People see how you behave; they don't only listen to what you say any longer.
Evangelism is supposed to be done through our lifestyle. Only very few fear God. We glorify church structures and followers, yet there are problems around. Are we carrying those structures to heaven? We are supposed to do the work of the government, even within our locality, how many lives are we touching? People only go to those churches because they don't know what to do anymore; they just close their eyes to all the things they do.
Unfortunately for Nigeria, we are supposed to be the guiding light for all nations in the world. God is interested in Nigeria so much. God is allowing this time to deal with us, so we can rise up and take our place. So that we will forget about worldly things and focus on real evangelism. You say you are doing evangelism, even the ones you won, do they have a strong spiritual life? They do all sorts of shady things and they still come to church on Sundays. People talk to our pastors anyhow. At my own little level, a man pointed accusing fingers at me, within seven days he died.