One day in UNILAG, I asked myself: Is this how I will live my life for the next four years? —Visually impaired Corps member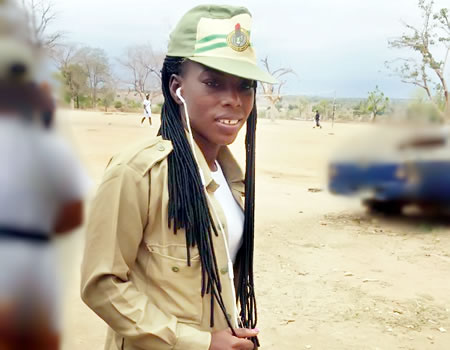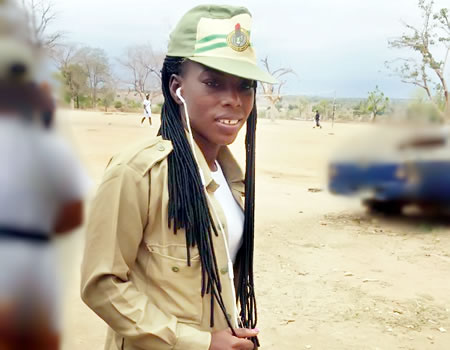 OPEYEMI Adewale was not born blind. She was actually 14 years old and in Senior Secondary (SS2) when she lost her sight. But she simply refused to give up on her dreams. And today, she is a graduate of the University of Lagos and currently observing her one-year mandatory national youth service.
On a fateful day, January 14, 2010, Opeyemi woke up like every other child; went to school, and returned home as usual. She even took her launch and then settled down in the family's living room to watch her favourite cartoon programme on television when the unexpected happened. Her two eyes simply packed up; she couldn't see anything again.
"Though, I didn't know it was blindness," she recalled. "I thought it was an eclipse of the moon," she told Saturday Tribune.
She was 14 and in SS2 then. She was aware, as she had been taught in school, that whenever an eclipse happens, the moon blocks the light of the sun from reaching the earth, leading to momentary total darkness.
"That was exactly my thought, and that I could not see didn't mean much to me until my mother came back home from the shop," she explained.
Even her mother could also not understand her sudden blindness, especially as she had no previous case of eye problem.
"So, mom did not take me that serious; she thought I feigned blindness. But when she stretched her hand and asked me to collect what she was holding and I stretched my hand towards a different direction, it dawned on both of us that it was a serious matter," Opeyemi recalled.
She was taken to different hospitals, including the Lagos State University Teaching Hospital, LASUTH, Ikeja, and private eye clinics, for investigations.
"Series of tests were carried out on the two eyes at intervals, but nothing was found as the cause; and because of that, I could not be asked to go for surgery," Opeyemi further explained.
Nevertheless, she still went for regular check-ups, and at one of such consultations, her optician told her that as a teenager, she could still achieve her dream in life and therefore should encourage herself.
That did just that.
"That was how I made up my mind to go to the Vocational Training Centre for the Blind at Oshodi, in Lagos, where I learnt, for two years, about mobility and some handwork that would help me to live meaningfully as a visually impaired person," said.
After graduating from the centre, her inner instinct told her that she could still go further to the university, which was her original plan. She didn't bother to go back to her former school to continue from where she stopped. Instead, she enrolled at a tutorial centre for intensive coaching in preparation for the West African Senior School Certificate Examinations (WASSCE) and the Unified Tertiary Matriculation Examinations (UTME).
She passed both examinations, as well as the post-UTME very well and gained admission into the University of Lagos, where she studied Political Science.
Her four years at UNILAG were not a walk in the park though, especially in the first year, according to her.
Apart from having to attune herself to the new environment, she also had to get used to the independent life as a visually impaired student.
"Things were a bit tough for me initially, but with strong determination and focus, as well as the help of God and fellow students, I was able to cope," she recalled.
She recalled her days in school:  "I lived in Moremi Hall throughout my four years in UNILAG. On the day I attended my first lecture, I had to beg a lady at Moremi Hall to lead me to the lecture room before going to her own class.
"When we got there, the gate was locked and she left me with the hope of sorting myself out. I actually did by approaching another lady, who was also waiting for the same lecture.
"I pleaded with her to help me into the class the moment the gate was opened and she agreed; but by the time they opened the gate, she ran inside the class and left me behind.
"Even at that, I still tried to reach out to her, calling 'young lady, young lady,' but there was not a single person around me. At that point, I asked myself 'Is this the way I will live my life for the next four years?'
"But later, she came to me and asked why I didn't enter and I told her again that I couldn't see. The same lady, whom I later knew as Moni, eventually became one of my best friends till date."
Opeyemi refused to surrender her dreams and happiness to her condition. As a sociable and jovial person, she actively got involved in many social activities on campus.
She contested for the Miss Moremi Beauty Pageant when she was in 100 Level and won. She also took part in cooking competition at the 200 Level and came second despite being the only visually impaired person among the 18 contestants in the race.
"In year three, I represented my faculty in the University debate and I came third, while in my final year, I participated again in cooking competition," she recalled.
Interestingly, Opeyemi who believes she could still see again if God permits has a tall ambition.
"I want to become a force to be reckoned with in human development profession in Africa, and I'm already working towards that by exploring all meaningful opportunities that come my way," she says.
One of such opportunities, apart from numerous ones during her undergraduate days, is the Ready Set Work (RSW) initiative designed by the Lagos State Government to sharpen the skills, knowledge and attitudes of final year students of all tertiary institutions in the state ahead of their graduation.
Opeyemi was one of the 2017 set of the scheme, which has produced more than 2,500 alumni so far across the eight participating institutions in the state.
She is also one of RSW alumni that had internship programme at PricewaterHouseCoopers (PwC) Nigeria, one of the companies partnering government under the scheme.
ALSO READ: How BBC wowed Lagos with huge wall painting
The company also retained her for her national service, which she is observing at the moment.
"I'm gradually building my career at PWC towards human development," she says. "And I am sure I will do well without long in the profession by the grace of God."
Interestingly, the Country Senior Partner of PWC, who is also an RSW mentor, Mr. Uyi Akpata, as well as the Special Adviser to the Lagos State Governor on Education, Mr. Obafela Bank-Olemoh, whose office oversees RSW programme acknowledged that Opeyemi is truly a promising young lady.
Both men, at separate times, affirmed that Opeyemi had been one of the best participants in RSW programme.
She looks forward to marriage too someday; but says she has to upgrade and equip herself first with the necessary skills and qualities to attract her ideal man, at God's appropriate time.