Ondo commissioner supports Environment-Friendly Television Market for nature contents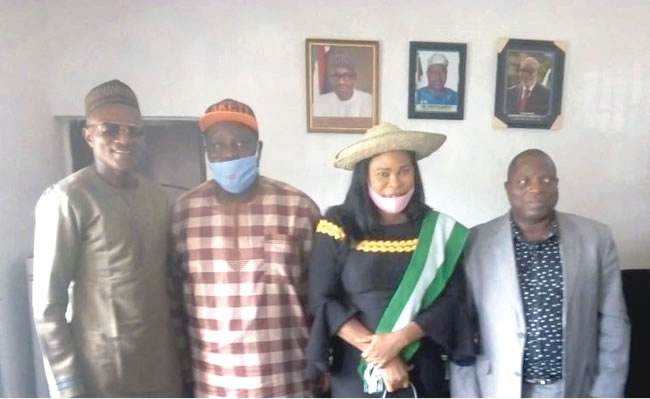 THE Ondo State Commissioner for Natural Resources, TemitayoOluwatuyi, has announced the ministry's support for the Environment-Friendly Television Market Project of the state Goodwill Ambassador for Environment, Ms OlayemiOlapeju-Akerele.
The commissioner made this known recently at the state secretariat, Natural Resources Complex, in Akure, during Ms Olapeju-Akerele's door-to-door distribution of information materials on biodiversity preservation and COVID-19 preventive measures to commemorate this year's World Environment Day organised by the Environment Friendly Television Market team.
Honourable Oluwatuyi said the establishment of the Environment Friendly Television Market, which will launch on cable television channels for broadcasting of original contents involving nature, climate change and marketplace for teleshopping, is a fulfillment of ethical means of communication of environment issues to the public.
The commissioner stated that part of the ministry's assignment is to facilitate effective private sector participation in land-service delivery and forest utilisation, adding that the usage of Osse River Park, in Idoani, to house the project headquarters is in line with its strategic growth plan.
The commissioner said: "We appreciate the ingenious support from the Goodwill Ambassador for Environment to sustain the ministry's awareness on activities around nature by choosing Osse River Park as home of Africa's first environment-friendly television in a nature park that will operate with renewable energy equipment and committed to achieving zero carbon emission to prevent future threats to the environment."
In his speech, the Permanent Secretary for the ministry, Mr Tokunbo Ayejoto, said the park, which covers an area of about 282.35km2, is a potential pearl of ecotourism in the world and it will offer opportunities for nature watching and primitive camping that can contribute to the television's programmes.
The Goodwill Ambassador and member of the executive management team of the television project, Ms Olapeju-Akerele, indicated that the television station, like National Geographic and Discovery channels, will air non-fiction and factual contents for 24 hours daily.
She explained that the factual contents involve nature, climate change, health, science, agriculture, education, art, culture, virtual learning and inclusive sustainable television market platform for home shopping.
She said: "The television premier programmes, which will be aired on digital terrestrial television platforms, will include episodes of biodiversity and COVID-19 preventive measures, which are currently been done to commemorate this year's World Environment Day."
YOU SHOULD NOT MISS THESE HEADLINES FROM NIGERIAN TRIBUNE