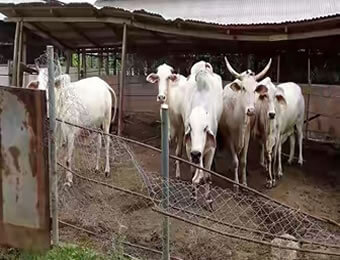 ONDO State government has been assured that the resuscitation of the Auga Cattle Ranch in the Akoko North East Local Government Area of Ondo State, would open employment opportunities for the youths and women in the state.
The Chief Executive Officer of Peace Aid Project (PAP), Benson Emakpor, who gave this assurance in Auga Akoko, said the new ranches introduced by the Ondo State government would help to raise a new generation of millionaires through cattle ranching and livestock farming.
He described the development as a positive step towards putting an end to the incessant clash between herdsmen and farmers in the state.
Emakpor said the state government has established collaboration with PAP in order to produce healthy cattle and disease free beef in the state, saying a minimum of 500 youth and women would be trained and empowered in Cattle Fattening at the Auga Cattle Ranch
Emakpor explained that the Memorandum of Understanding (MoU) the organisation signed with the state government should not be seen as an agreement to establish Cattle Colony in the state, but a partnership that will raise a new generation of farmers as well as mitigate the vexatious issue of Fulani herdsmen attacks.
The MoU was signed on the 13th of February 2018 and was meant to revamp the dilapidated Auga Cattle Ranch into a modern Cattle Ranch with innovative facilities.
As part of the agreement, the NGO will construct 500 cattle sheds for the herds while other compartments would be built in line with hygienic and modern trends of raising cattle. Each of this sheds will hold 60 Bulls and will be operated by the Youths.
This idea is also expected to put an end to the unwholesome sight of cattle being herded within residential areas of the city and those destroying economic crops in the environment.
Speaking on the plan of the organisation, Emakpor said PAP is partnering with government to assist legitimate Cattle traders to have their cattle housed, checked and fed between the periods of landing in Ondo State to the time they will mature for slaughtering at the abattoir.
Emakpor further described the project as an empowerment project in cattle fattening and ranching and not a cattle colony.
ALSO READ: Herdsmen attack: Fayose visits Ipao Ekiti, as police secure troubled spots
The Founder/CEO further stated that application and selection process for participating in the project will commence soon in Akoko North East Local Government Area and other local government areas across the state.
"When fully operational, the plan is expected to become a major highlight of the Arakunrin Oluwarotimi Akeredolu's efforts to raise a new generation of youth farmers that will be trained and have skill in modern and economically viable farming methods," he said.