Omisore condoles with Pa Fasoranti, Afenifere, condemns daughter's killing
Former deputy governor of Osun State, Senator Iyiola Omisore has sent his heart felt condolence to the Afenifere leader, Pa Reuben Fasoranti, on the tragic death of his daughter, Mrs Funke Olakunrin, allegedly killed by suspected Fulani herdsmen on Friday.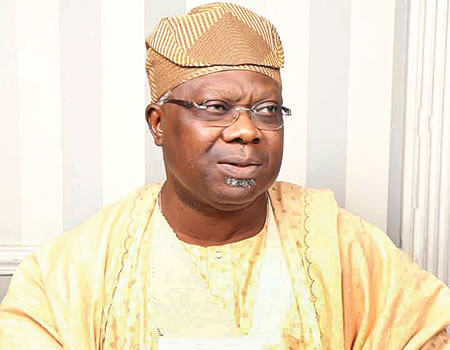 Omisore, also, a former governorship candidate of the Social Democratic Party (SDP) in Osun State, condemning the despicable and wicked act of Olakunrin's killers, described her death as a personal loss to him, being someone very close to the family, while he called on all the country's security formations to fish out her killers.
He expressed a strong disapproval on the rising wave of killings and kidnapping on the highways, charging the police authorities and other security agencies to ensure the highways are secured and fish out those who hide in the bush to lay ambush on the unsuspecting motorists and innocent road users.
In a condolence message personally signed by Omisore, he prayed God to grant the immediate family of the deceased, and her 94-year-old father, Pa Fasoranti, and the entire members of Afenifere, the Pan Yoruba socio-cultural group the fortitude to bear the irreparable loss, even at time he was getting over the earlier loss of a daughter.
"The death of Mrs Funke Olakunrin for now and years to come will have to remain a painful mystery that it is, as I received the bad news of her death with a rude shock.
"Baba, you are in my thoughts and prayers, as words cannot express how deeply shocked and sorry I am to hear about Mrs Olakunrin's death. My deepest sympathy for your loss.
"My thoughts and prayers are with you and your entire family. I empathise with you and pray that God strengthens you more and grant you peace of mind at this sad moment, a period you are trying to adjust well to a better living after you had earlier loss a daughter before now. May the beautiful memories of Mrs Olakunrin sustain and bring comfort to you during this difficult season.
"My heart is filled with sadness. Please accept my deepest sympathies and know that my prayers are with you during this time.
May memories of your daughter, Mrs Olakunrin, and her positive contributions to humanity sustain and strengthen you as you navigate the difficult days ahead. Please, accept my condolences," Omisore wrote in his conference message to Pa Fasoranti.
Omisore, also a former chairman of Senate Committee on Appropriation, however, called for an end to killings in the country, saying such was unacceptable in a civilised society, while he charged that the killers of Olakunrin must be fished out to serve as a deterrent to others.
The deceased was shot on Friday on the Kajola-Ore road in Ondo State, while on her way from Lagos State to commiserate with a relation in Ondo State.