Olunloyo, Agbotomokekere, Akinbile preach religious tolerance, interfaith harmony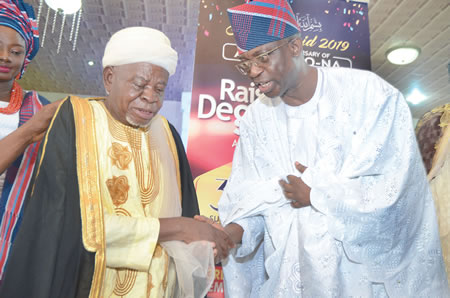 A former governor of the old Oyo State, Dr Omololu Olunloyo; the Chief Imam of Ibadanland, Sheikh Abdul Ganiyy Abubakri Agbotomokekere and the leader of Muslims in Light Organisation (Sufi Centre), Master Rasheed Akinbile, have stressed the need for interfaith harmony and religious tolerance in the country.
The trio made this call in separate remarks at the opening ceremony of the 30th anniversary of the Muslims in Light Organisation, held in Ibadan.
The chairman of the event, Olunloyo, decried the tendency of many people around the world to hide under the guise of religion to hinder peaceful coexistence and social development.
The former governor noted that the major religions in the country preached peace and then emphasised the imperativeness of people to live according to the central tenets of harmonious coexistence and godliness.
He lamented that "there is a proliferation of churches and a lot of religion but very little godliness in our conduct."
Identity of sacked Osinbajo's aides revealed
In his sermon, Sheikh Agbotomokekere stressed the need for Muslims to remain focused on adhering to Allah's injunction and never compromise the Islamic faith.
The founder of the Sufi Centre, Akinbile, said interfaith harmony and educated citizens were fundamental to the development of nations.
He noted that true divine knowledge of the oneness of God would engender peaceful religious practice among humanity.
Noting what he called the persecutions of the Sufi Centre over the years, Akinbile said the organisation remained resolute on teaching and empowering Muslims to awaken their "latent power."
He noted that the sustenance of the Sufi Centre for 30 years showed that Allah favoured the organisation.
"Knowledge is important for the success of individuals and the development of nations. Part of the problems we are facing in the country is the problem of illiteracy. By the time we improve the literacy level, there will be more development.
"We need a peaceful atmosphere to practise our religion and that is why I have been promoting inter-faith conference. God is one. Humanity is one. We must live together in oneness and unity," Akinbile said.