Okowa, Uduaghan slam political aides as Delta PDP savours victory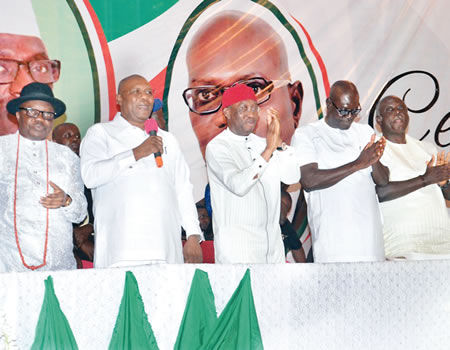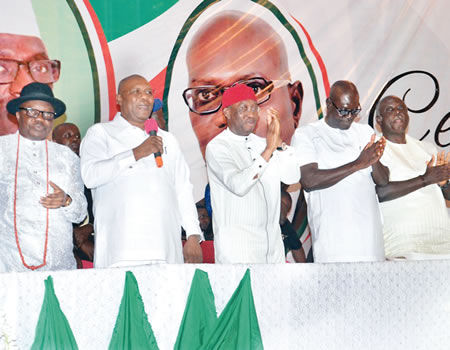 Some political aides in Delta state have been reprimanded for being unpatriotic to government, party and unkind to their constituents.
The state governor, Dr Ifeanyi Okowa and his predecessor Dr. Emmanuel Uduaghan who lambasted the aides at a well attended meeting of the Peoples Democratic Party (PDP) in Asaba at the weekend where members celebrated the victory of Ahmed Markifi caretaker committee at the Supreme Court, said the victory was for democracy and for all.
For not wedging kola nuts at the ceremony, Dr Okowa, in expressing his anger, directed the offenders to forfeit their three months imprest which he said should be remitted to the office of the secretary to the state government.
According to him, some of the aides earned between N70,000 and N150,000 monthly as imprest (Not salary).
"I can't imagine, you earn salaries and yet you don't want to bring out even N5,000 to support the party, we will not tolerate that" adding that the action did not distinguish them as full political patriots".
Over N18 million was realised as donation towards the kola wedging with members of the state House of Assembly topping with N3 million, House of Representatives members N2 million, Senators N1 million, state PDP chairman N1 million, commissioners N1 million, state ALGON and others.
The governor also called for the report card of all appointees for assessment saying, since some of them did not want to work for the party, they did not need any appointment.
He encouraged the aides to give a sustainable empowerment in skills acquisition to their constituents rather than providing them with packages that would not be useful to them at the end of the day.
Okowa who advised the party faithfuls to assist the ongoing voters registration exercise because of poor figures recorded in some local government areas made it clear that time has come for the people to work for the success of the party in 2019 even as he appealed to them to go forth and meet the losers at the supreme court for the purpose of unity and greater PDP.
Taking a swipe on the conduct of aides, former governor, Uduaghan lamented that some of them were over tight fisted towards the constituents and the way they also criticize the government they are serving.
In admonishing the aides, Uduaghan said:
"When you hold a position, it is not for you alone, no matter what you earn, part of it must be used for your constituency.
"The only way to encourage the leaders of the party is to spread what you have to others.
"Don't forget, you are the best image makers of government and party. I found it distasteful, some of you in government grumble more and are the ones pulling the government down. You can't be in government and you are the one criticizing the state government.