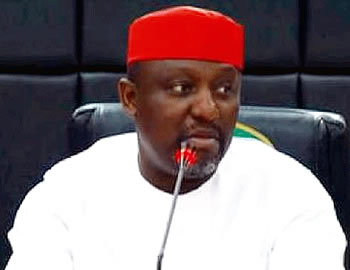 Governor Rochas Okorocha of Imo State has described the founder and general overseer of The Lord's Chosen Charismatic Revival Church, Pastor Lazarus Muoka, as a blessing to his generation.
Okorocha made the remarks at the ground-breaking ceremony of The Chosen Crown University, Mgbidi, Imo State, owned by The Lord's Chosen Church.
He stated that by locating the university in the state, Pastor Muoka had responded to his repeated appeal that churches and individuals who had the capacity to establish universities in the state.
He said the state was in dire need of not less than 20 universities, following the number of Imo Indigenes who applied for university admissions every year but were denied entry.
He said: "What is good is good. I salute the courage of Pastor Muoka. He loves his people otherwise he would have chosen to site the university in any other part of the country. He has just answered my clarion call on education. With this university, he has also brought development to complement the urban renewal programme of the government.
"Whatever we can do to encourage this project, we must do it. University puts a community on the map of the world and brings landmark development. We shall support you for it to be completed and fast-track the registration."
In his address, Muoka assured that the university would be one of the best in the country, and produce quality graduates that could raise their hands to be counted in any part of the world.
---
---