Oily yards, collapsing quay threaten Five Star Logistics port operations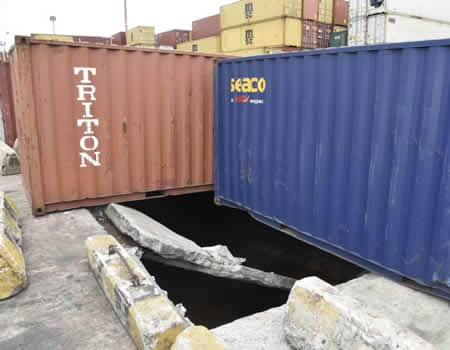 FINDINGS have revealed that terminals 9 and 10 of the Tin-Can Island Port being operated by Five Star Logistics Limited are currently being threatened by collapsing sections of the quay apron and an oily yard that turns slippery whenever it rains.
When Nigerian Tribune visited the Five Star Logistics terminal recently, it was discovered that some sections of the quay apron has collapsed, leaving large crater like holes in them, thereby posing grave danger for port operations as Reach Stackers can fall inside the craters during port operation.
Speaking to the Nigerian Tribune over the presence of the craters in berth 9 and 10 of Tin-Can Island port, a staff of Five Star Logistics who craved anonymity explained that, "these craters have been here on our berth for years now.
"It is the responsibility of the NPA to fix any issue from the Quay Apron to the Tower Line along our berth. This is causing a sort of constrain for us as terminal operators because due to the presence of this craters, we have to be careful when we load and offload cargoes from vessels at our terminal.
"Even Reach Stackers are exposed to falling inside these craters, so during cargo loading or evacuation, we are always constrained to spaces outside the affected portion of our quay, and this has not really helped us maximise the benefit of running the terminal to its full potential."
Further findings also revealed that a sizeable portion of the yard is covered with oily surfaces, creating a slippery surface for port operations whenever it rains.
Recall that in 2006, the Federal Government, through the NPA concessioned all ports terminals in Nigeria, therefore ceding running of port terminals to private operators while the agency remained in landlord capacity through collection of rental charges which includes towage, berthing, and cargo throughput fees on-behalf of government.
YOU SHOULD NOT MISS THESE HEADLINES FROM NIGERIAN TRIBUNE
Buy and read digital replicas of your TRIBUNE titles by subscribing through E-VENDING
Ogun To Be On Total Lockdown From Saturday For 14 Days, Says Governor
Ogun State governor, Prince Dapo Abiodun, on Tuesday, said that the state would from Saturday, April 18, be on total lockdown for the next 14 days. The governor, in a statement signed by his Chief Press Secretary, Kunle Somorin, urged the people of the state to take advantage of the current window relaxation of… Read full story
Many Rendered Homeless As Fire Razes 700 Shelters In IDPs Camp
No fewer than 700 shelters were destroyed by fire in an Internally Displaced Persons (IDPs) camps at Mafa Local Government Area of Borno State. The Secretary of the Local Government Area, Mohammed Lawan-Sheriff, made the disclosure in an interview with News Agency of Nigeria (NAN) on Tuesday in Maiduguri,.. Read full story