Ogbeh charges agric varsities on core mandates, food production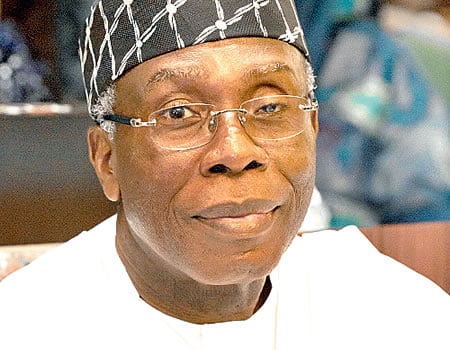 The Minister of Agriculture and Rural Development, Chief Audu Ogbeh, has assured the lecturers and students engaged in non-agricultural studies in the three universities of agriculture that their careers will not be jeopardised. He gave this assurance in Abuja while receiving the members of the governing councils of federal universities of agriculture.
According to Chief Ogbeh, "the return of the three universities of agriculture to this Ministry is … a rational, just and timely action, necessitated by the new economic realities we are in, to ensure that our institutions are better focused and more efficiently and economically managed."
"The three federal universities of agriculture," he noted, "were established to advance the cause of agricultural transformation and modernisation in Nigeria for the development of core competencies in agricultural education, research and training, amongst others.  It is, therefore, expected that the admission policy of these universities will largely be reflective of this overarching goal. Our submission is that, in the long run, the universities will be better served if they focus on their core areas of business rather than on the subsidiaries."
He expressed the consciousness of government on the "fears and anxieties of teachers and the students already enrolled for these subsidiary programmes."  Accordingly, he said, "we will not be cancelling them immediately. The task before you is to phase them out gradually."  He pointed out, however, that, "as institutions of agricultural education and research, you can earn huge revenues from agricultural research, seed and seedling development, extension work, soil mapping and even production of food on campus."
Going forward, he said, the universities should give greater priority to courses with agriculture-related content. "We do not forbid the teaching of electives like some accounting, business administration and so on, but only as subsidiaries. The main courses must be agriculture, agronomy, botany, animal husbandry, forestry, fishery, plant entomology, breeding, cattle breed improvement, agric engineering, veterinary medicine," he insisted.
He advised that "we should be training graduates who should be going straight into production, with credit support from their alma-mater, produce chicken, eggs, goats, milk, set up meat laboratories, bake bread and above all  produce and sell large quantities of high quality hybrid seeds. Farmers are in desperate need of these services and more.  You will make huge profits from innovative agricultural practice."
Addressing them on agricultural productivity, Chief Ogbeh said: "You have huge parcels of land averaging 10,000 ha each. I enjoin you to put them to use. Raise plantations as it is done in Abeokuta and Umudike already. Scale- up the plantations over time and earn income. Be the food basket of your respective host communities."
According to the minister, "there may be an immediate reaction to the innovations we are bringing to bear on your campuses. For example, you may experience a sharp drop in admission. Do not worry about this, and other distractions.  Attitudes will change because, undoubtedly, agriculture is a profitable business to those who choose the path of patience and endurance.  They will come running once they see the prosperity and fulfillment in those who dare to try."
He assured the universities that there will be "an important and strategic modification" to the existing faculties of medicine. "The faculties will now be called Colleges of Nutrition and Medical Sciences." If attention is paid to the increasing awareness on the importance of nutrition, he said, "we may not only be drastically reducing our national health bill, but also raising the bar of our currently low life expectancy average."
He disclosed that "the Federal Ministry of Agriculture and Rural Development has already set in motion a machinery to remodel the three universities under our joint care  with a view to transforming them into centres of excellence of global reckoning. In this connection, we shall ensure that the institutional structures already enshrined in the Federal Universities of Agriculture Act cap F22 CFN 2010 for their effective management are put in place without delay."