How officials rob Lagos power firms of billions •We know some of our people are corrupt —EKEDC, IKEDC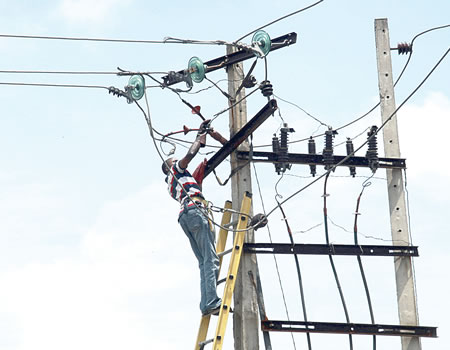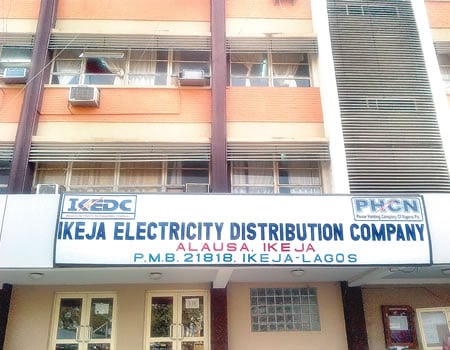 SHOLA ADEKOLA, BOLA BADMUS, TUNDE DODONDAWA and KEHINDE AKINSEHINDE-JAIYEOBA unearthed how electricity officials are helping Lagosians to steal from "them".
SINCE November 1, 2013 when electricity became a total "buying and selling" commodity in Lagos, two major problems, apart from unavailability of the product, have continued to generate actions, reactions and counter-actions between the two major sellers of the product in the state, Eko and Ikeja Electricity Distribution companies and the consumers. While the sellers have always complained about energy theft and huge debt, the buyers have continued to express unhappiness about crazy estimated billing.
Whenever communities think they are getting choked with "undeserved billing", they resort to protest and whenever the electricity companies think they can no longer stand the huge debt, they go on a disconnection spree. Both sides have never seemed to agree on who should take responsibility for any failures.
While energy theft is used by the companies to explain crazy billing since they must recoup their investment in the purchase of the product before releasing it to the consumers, findings in some communities suggested that the companies may have to unmask those behind the alleged energy theft from among their ranks.
Saturday Tribune discovered in the communities sampled, how officials of the two electricity companies encourage consumers to cheat their employers – for a price. For those who understand the "language" of the officials, they could as well consume electricity without ever paying anything into the coffers of the providers, as long as "deals" are not broken.
Strange enough, this sabotage is not unknown to the companies. Their spokespersons confirmed they were aware of how "dirty" some of their officials are. They said efforts were being made to get the bad eggs involved in the fraudulent collusion with the electricity consumers.
Robbing Peter…
In January, Felix Ofulue, Head, Corporate Communications of Ikeja Electricity Distribution Company, the largest of the providers, claimed that as of October 2016, consumers owed the company a total of N78 billion. He noted that the residents of a particular community who protested alleged blackout to the firm's head office around the period were discovered to be having an outstanding debt of about N560 million.
But the corrupt tendencies of some officials have been blamed as being largely responsible for the huge indebtedness of many residents. It is almost a norm for many residents to evade payment of their bills. Saturday Tribune discovered that the continuous evasion of bill payment has been made easy through the collusion of the officials of the electricity suppliers. It was gathered that the officials, rather than ensure that residents pay for the services provided, often collude with them to cheat their own employers and line their own pockets in the process.
Many residents of Egbeda/Shasa community confirmed to Saturday Tribune the collusion, which has ensured a continuous supply of energy without paying their bills. A certain resident of Oguntade in Shasha who occupies one of the six single rooms in a building, said the uncooperative attitude of other tenants had shot their electricity bill up to N35,000. According to him, the corrupt activities of the electric officials have made it impossible for the bill to be paid as the officials, rather than demand for evidence of payment, only seek to be bribed.
"Many people in my area are no longer keen on picking up their bills because the officials come around under the guise of disconnecting the lines of debtors but everybody knows that what they are actually looking for is 'settlement'," the resident said.
Another respondent who simply went by the name "Baba Ejima", a resident of Bammeke, said, "The corrupt attitude of the officials has discouraged consumers who used to pay their bills. Now they want to evade payment too. You cannot blame such people because they feel cheated by the corrupt system."
He said at a house close to where he is living, the electricity bill there had accumulated to N120,000 because there was no post-paid meter there. "Many of the original owners of the bill have relocated and the inheritors of the bill have continued to enjoy electricity supply based an agreement reached with the officials to grease their palms with paltry N1,500 every month", he said. Many other residents of Shasha agreed that corrupt electricity officials are responsible for the consumers' lack of interest in paying their bills.
Because of the "easy" money they make on their visits, such officials, it is alleged, also do not spare the weekends, as they emerge in communities even on Sundays with ladders asking for 'evidence of bill payment'. "Even at night and during heavy rains, they are seen carrying ladders around", said a respondent.
Officials discouraging us from getting pre-paid meters –Residents
Due to their "profitable romance" with the consumers, the "dirty" officials are allegedly sabotaging the ongoing distribution of pre-paid meters to replace the old meters, a move seen as self-preservation since pre-paid meters require no official serving as an intermediary when it is time to pay for electricity consumed. The fact that the consumer also pays in advance completely eliminates the officials in the transaction.
At the realisation that the pre-paid meters, when available to all customers, would put an end to the illegal money the officials collect from debtor consumers, Saturday Tribune, was told by some community members that the officials had been cajoling them to reject the pre-paid meters, creating fears in their minds that the new meters would make them pay more for electricity.
It is the same story at Abule Egba and its environs where evasion of bills for electricity consumed has become a norm, irrespective of social class. At a particular house in one of the streets, energy officials are said to have accepted non-payment or partial payment of bills as the norm. Anytime the officials come to disconnect the house from the power source, reconnection is done a few hours later. This has been observed to be the trend.
While Ofulue complained about revenue loss due to both energy theft and huge debt, his men on the field smile home every day, robbing both their employers and, in a way, the consumers, because the unpaid bills still stand in their names even while they pay bribe to the dirty officials.
The phony disconnection activity of the officials has also become a blessing for many retired officials of the electric firms and self-employed professionals who are ever ready to reconnect any disconnected line for a token. One of the gimmicks employed by the officials is to bring down the wires of their victims from the pole threatening to cart them away. If the bargaining of the consumers is to the satisfaction of the officials, they are allowed to engage a retired official or a private electrical professional around for reconnection.
Prepaid fraud
Mr Tee, a resident of one of the streets, said he should not be blamed for the huge electricity bill on his hands. "This is how I met it. When I rented this apartment years back, the landlord and the caretaker told me nothing about the debt which had been incurred on my meter until I started receiving my bills. That was when I realised I was to pay the old tenant's debt. Where is that done! How can I pay for power I didn't consume?" He explained that since then, it had been debt upon debt. "I pay for my monthly power consumption which, of course, is estimated. I expect the landlord to make other settlements, not me," he added.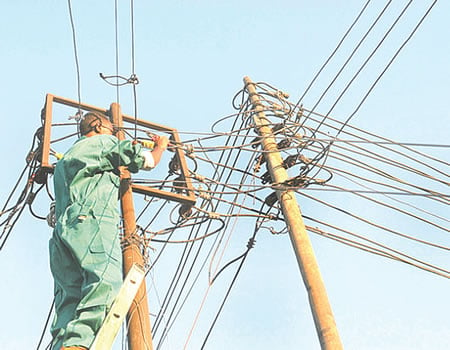 In some areas around Abule Egba, the uneven distribution of prepaid meters has been a cover for some to evade payment of their electricity bills. It was observed that in such areas, there are both postpaid and prepaid meter users, which sometimes makes the power officials overlook some houses when they call to disconnect the wires of defaulters.
In a particular house, only a few of the residents use postpaid meters, so they hide under the rest of the residents using prepaid meters, especially when the same wires carry electric current into the entire building.
Akintan Lola explained that sometimes when the officials come for disconnection, they (those with postpaid meters) take them to the prepaid meters to verify their false claim that residents are on the prepaid metering system. "At times, these officials know but ignore the facts, especially when given some change," she said. She added that they had 'friends' among the power officials who help reconnect their wires after their "uncooperative" colleagues might have disconnected the lines. "At times, when they come for disconnection, we beg them not to take away our wires. If they yield to our plea, later in the day or at night, we call the officials we know to help us get reconnected and give out some money as an appreciation."
In some homes with prepaid meters connected to the service points, fraud still occurs in the consumption as wires connecting appliances and machines that consume more electricity are not put on the prepaid meters. In street parlance, it is called a bypass. In a particular flat, the pumping machine receives electric supply directly from the outside pole, which excludes the consumption from prepaid deductions.
'Despite whistle-blowing, our men are still corrupt'
Reacting, the General Manager, Public Affairs Division, Eko Electricity Distribution Company, Mr Godwin Idemudia, stated that the management of the company was taking measures to tackle the challenge of connivance of staff members with the customers to short-change the company by not paying the actual bills.
"Because we are the first electricity distribution company in Nigeria, we are well ahead in tackling the challenge. We are the first to introduce and embrace whistle-blowing policy because we don't tolerate such an act at all, especially from our staff members. The whistle-blowing policy urged the public to report any of our staff members caught demanding or negotiating graft in order to cut corners. And this has helped a great deal in apprehending some disloyal workers.
"As a policy, when we apprehend such a person, we give him or her speedy trial and fine him or her accordingly, including his or her partner. We will eventually hand him or her over to the security agencies for prosecution. You know, in every society, there are black sheep and we can't ignore that fact. With the orientation given to our staff members, they know what they are getting into by conducting themselves in shameful manners," he said.
When asked if the whistle-blowing policy had really been effective, he answered in the affirmative.
"It has been very effective. We have a dedicated desk to handle the policy and we also compensate any informant with accurate information very well. When the information is investigated and found to be false, we simply drop the case and move on," he stated.
Supporting his colleague, Ofulue of Ikeja Electric said they had embarked on a campaign aimed at sensitising the public on the need for them not to pay cash to their staff members. "This campaign was also directed at the public not bribing our officials for any services. That is why we created several payment platforms. We also created the whistle-blowing platform to encourage the public to report anyone who is demanding for bribe," he said.
When asked if anyone had been prosecuted recently, he simply stated that "the public will sometimes complain that some of our officials are demanding graft from them but when asked to provide the name of the suspect, because they usually go out with their overall and name tag, they refuse because they don't want him to lose his job.
"We want the whistle-blowing platform to be as objective as it could be, that is why we handed it over to a third independent party and feedbacks have been good."
In a previous statement, he also clarified the issue of estimated billing, saying, "Estimated billing is the only way you can bill people when there are no meters. It is not peculiar to Nigeria. However, we have adopted a billing methodology, which is best suited to serve everybody. Even with that, if you have an issue with your bill, you can take it up at the nearest undertaking office where they will carry out a load assessment of what you use and adjust appropriately.
"The methodology we have adopted is to ensure that crazy billing is taken off. We will bill you for what you use. Again, the perception of people is that the length of light does not necessarily mean the worth of energy consumed. That is not true. You can consume in a short period of time what you can consume within a longer period of time. It doesn't have anything to do with the length of time; it is the appliances and devices pulling power at the given time that matter.
"And don't forget, all our distribution transformers are metered. So, we know the amount of energy that is coming in, the amount allocated to a particular area and how much is consumed from a particular transformer."
On energy theft, he had this to say: "That brings me to the menace of energy theft. There are people not registered on our network who are stealing energy. We have cases of people like welders who come out only at night to work. These are the people indirectly affecting your consumption and your bill. What happens is that if you do not report these people, they will be consuming at your expense and that will result in the estimation approximated to you.
"The stolen energy in your community will be recorded in the transformer as energy utilised and when we are giving bills, automatically customers on estimated bills will bear the burden and pay for those stealing energy in their area. That is why we are saying customers should assist us by reporting whoever is stealing energy to us, it will reduce what you are billed."