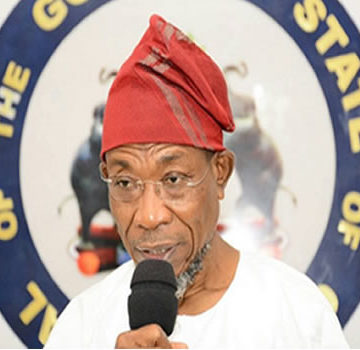 AS varied reactions trail the recent armed robbery incident in Offa, Kwara State, which several innocents persons lost their lives, Osun State governor, Mr Rauf Aregbesola on Friday tasked the security agencies to fish out the perpetrators of the dastardly act and ensure that they face the full wrath of the law.
Aregbesola, who have the charge during a condolence visit to the Olofa of Offa, Oba Mufutau Gbadamosi Oloyede in his palace over the incident described the robbery attacks as the worst in the history of the ancient town.
The governor noted that the attack was barbaric in the modern society, contending that no effort must be spared to unravel the perpetrators and bring them to justice.
According to Aregbesola, "what happened last week was very unfortunate, barbaric, saddening and uncalled for. It was like what happened about 132 years ago in this town. I deemed it fit to be here in my capacity not only as a governor but as a brother, friend and in-law to the people of Offa and Kwara State in general."
"It is on record that our people in Osun have had robust relationship and affection with the people of Offa, prompting us to be here in large number.
I came here with members of my cabinet to sympathise with the good people of Offa and Kwara State, particularly the family of those that lost their lives to the unfortunate incident.
ALSO READ: Ahmed condoles Oloffa, family over Adesoye's death
"The incident has once again challenged us on the need to tighten internal security and I am very sure that the perpetrators would not go unpunished.
As Muslims, we believe that the incident was God's will and those that lost their lives have been destined to experience such as we pray God to grant the souls of the departed the best place in paradise and give their family the fortitude to bear the irreparable loss", the governor remarked.
Aregbesola who also visited the Divisional Police Headquarters attacked by the robbers during incident assured that efforts were in top gear to forestall future occurrence and bring the hoodlums to justice.
In his remarks, the Olofa of Offa, Oba Mufutau Gbadamosi Oloyede Okikiola attributed the incident to God's will, saying the families of the victims and the entire people of the town have taken consolidation in God.
He stated, ‎"what happened to us last week is considered as God's will that is why my subjects have been going to their normal businesses. We are consoled with the fact that this incident will mark the beginning of success and blessing to us as we have been hearing good news from the government at various levels to support the town in strengthening the security."