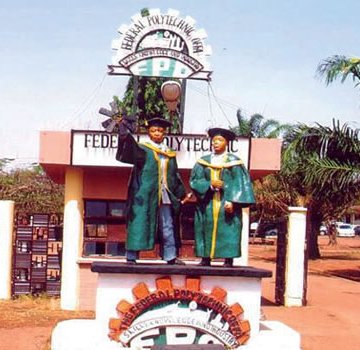 A 47-year of staff of the Federal Polytechnic, Offa, Kwara State, Ayodeji Matthew, has been charged before an Ilorin Magistrate court on allegations of illegal possession of firearms and being a member of a secret cult.
Ayodeji, who works in the Registry Department of the Polytechnic, was alleged to have been found with one pump action gun and three life cartridges during a police raid on his residence early this year.
The First Information Report (FIR) on the incident also indicated that the suspect allegedly confessed to being a member of a secret cult located at the Osun Oshogbo Shrine, in Osun State.
Both offences, according to the FIR, contravene Section 27 (2) of the Firearms Special Provision CAP 'F', LFN 2004 and Section 2(7) (14) of the Secret Society (Prohibited) Law 2016.
          ALSO READ: Kwara APC reps aspirants petition Oshiomhole, Osunbor over non-release of election results
The text of the FIR reads: "That on 17/03/18 at about 11.30hrs, upon information, received that one Ayodeji Bankole Matthew's' of Registry Department, Federal Poly, Offa, Kwara state, is a member of unlawful society, to wit, secret cult, and he has in his possession a prohibited firearms. Hence the operatives of the State Intelligence Bureau, Kwara State swung into action and conducted search warrant in the house and premises of the suspect at Afari Area, Offa Kwara state where the following items were recovered (1) One Pump Action with Breach No: 12-0231 (2) Three life cartridges both of them illegally acquired.
"Investigation carried out by the Bureau revealed further that the suspect procured the said firearms found in his possession illegally and unlawfully without a genuine license. Furthermore, an investigation revealed that you, Ayodeji Bankole admitted that you actually belong to Osun Oshogbo Shrine Cult. Therefore a prima facie case of illegal possession of firearms and being a member of unlawful society to wit secret cult established against the suspect."
The case, which came up on Thursday before Magistrate Ibrahim Mohammed was adjourned to November 22, 2018, for further mention while the suspect was allowed to continue on an earlier bail granted him, by the court.