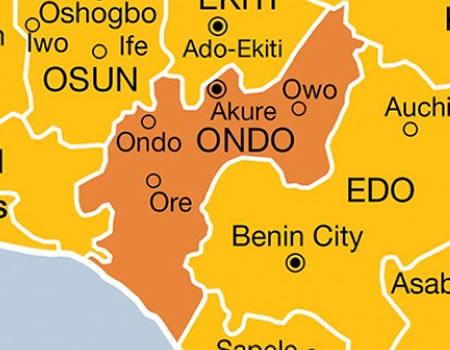 SEVERAL months after sacking of the elected council officials in Ondo state, the Ondo State Independent Electoral Commission (ODIEC) on Wednesday, issued out its guidelines for the conduct of elections into the 18 Local Government Areas in the state.
Speaking during a stakeholders Interactive meeting in Akure, Ondo State capital, the Chairman of the Commission, Prof. Yomi Dinakin, said the local government election would hold in the state on December 1, 2018.
Dinakin said "in accordance with section 30 of Electoral Act, 2010 as amended and schedule a paragraph (1) of the local government, establishment and administration law (Cap 87) laws of Ondo state (2006).
"Notice is hereby given that election to the following offices in the local governments shall hold on December 1, 2018."
He, however, said the commission would not make use of Card Reader machine during the conduct of the local government election in the state.
Dinakin said that apart from the fact that the law setting up the commission had no provision for the use of the Card Reader machine for the conduct of its elections, the logistics of the commission cannot accommodate the use of Card Reader in the election.
He said "our logistics cannot accommodate the use of Card Reader. It is expensive and the time for the training of manpower is short and expensive, but I am assuring the election will be a success.
"If we follow the rule we will conduct free, fair and credible election and I am assuring you of our neutrality in the election, we are not going to be teleguided.
The ODEIC Chairman assured that the commission will do its work strictly in line with the electoral law and called for the cooperation of all the stakeholders to ensure the success of the local government election.
He stressed the need for voters' education and sensitisation, saying the commission has put in place a programme to sensitise voters in local languages to ensure the success of the election.
He said the Commission would lose with the Independent National Electoral Commission (INEC) for the use of voters' register and list of political parties to contest in the election.
He said "the success of any credible election depends on the stakeholders and electorates should be discouraged from selling their conscience. It is not the duty of the commission to guide against vote buying or selling and this is one of the reasons we are giving priority to voters' education."
According to the guidelines, political parties are expected to pay N50, 000 on behalf of each Chairmanship aspirants and Vice-chairmanship aspirants and N20,000.00 for each councillorship aspirant.
The elections will be conducted in the 18 local government chairmen and 203 councillors despite a litigation by the sacked Councils' Chairmen elected under the regime of Dr Olusegun Mimiko.
The case of the sacked councils' bosses is still pending in court according to some PDP chieftains.