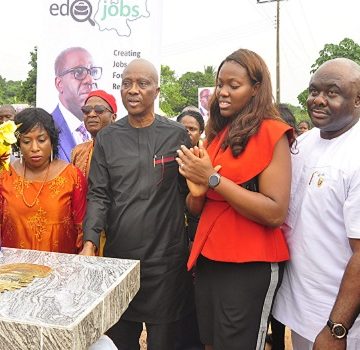 THE Edo State Governor Mr Godwin Obaseki has urged youths to take advantage of the growing number of skills acquisition centres across the state to groom their skills for entrepreneurship and paid employment.
Obaseki, who was represented by his Special Adviser on Political and Community Matters, Chief Osaro Idah said this while unveiling a multi-skill acquisition center at Ukpato Ward in Orhionmwon Local Government Area of Edo State.
He said the state government will host 150 youth in the first phase of training, who will be trained in various skill areas, adding that the establishment of the centre at Ukpato and other towns across the state is a demonstration of his promise to create jobs.
           ALSO READ: Ortom says he has forgiven those who wanted to impeach him
He urged Edo people and residents to remain confident in his administration, urging parents to encourage their children to acquire useful skills, so they can be useful to themselves and the society.
"We have fulfilled a number of our promises; you can see the enthusiasm of the people here today. We want to urge the people to keep faith in our government. We encourage parents to tell their children to partake of the training.
"This is the second skills centre we are unveiling. We were at Uhunmwode earlier to inaugurate the agric cluster. Both schools have been oversubscribed, we are already thinking of expansion," Obaseki said.
The Senior Special Assistant to the Governor on Job Creation and Skill Development, Mrs. Ukinebo Dare, said the opening of the centre was in line with the job creation drive of the state government.
She noted that the centre, has several training components such as welding and fabrication, accessories and bead making, fashion design, among others, and will provide gainful employment opportunities for the trainees.
She noted, "We are happy this has come to reality today. The governor has said that we should create jobs and develop skills in each community in every local government in the state. What we have done here is to build a skill acquisition centre that has so many traits. The young people are going to be making unique items and many of the things that are going to be made here will be exported."
According to her, the first batch of 150 trainees will commence training immediately with many youths coming in to register to be trained here. "The persons who will be trained here are going to be working here and will earn money that will be useful to them and their families."
Chairman, Orhionmwon Local Government Area, Hon. Sylvester Okoro, said the centre will engage youth and discourage them from falling prey to human traffickers, noting, "EdoJobs in my local government will create jobs and reduce the trend of illegal migration."
The center was set up by the Edo State Government through the EdoJobs initiative and the Ministry of Arts, Culture, Tourism and Diaspora Affairs. Other partners on the project include a Non-Government Organisation (NGO) operated by Princess Bemigho Momoh, while the building was donated by Marcus Igbinovia, an indigene of the community.
---
---