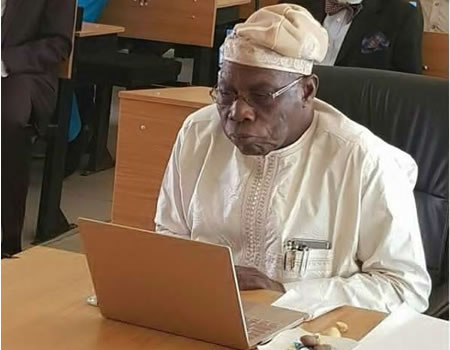 The National Open University (NOUN) on Friday,  awarded a Doctor of Philosophy (PhD) in Christian Theology to the nation's former president, Chief Olusegun Obasanjo.
Obasanjo had, last Friday, defended his project before a panel at the University Study Centre in Ibadan.
He was formally declared a PhD holder when a six-man external examiner panel, chaired by Dr Mande Samaila drilled him for almost 90 minutes at one of the auditoria of the University at the Abeokuta Study Centre.
Other members of the Panel were Prof. Cletus Gotan (External Supervisor), Prof. Deji Ayegboyin (Major Supervisor),
Dr Mustapha Raheem Adejoro, (Head of Department, Religious Studies (NOUN), Prof. Nebath Tanglang (representative of School of Postgraduate Studies, NOUN) and Prof. Godwin Akper (Internal Supervisor and Dean, Faculty of Arts, NOUN).
The Panel expressed satisfaction and awarded the degree after Obasanjo had defended his 250-page thesis titled "Resolving The Unfinished Agenda in Liberation Theology: Leadership, Poverty and Underdevelopment in North Eastern Nigeria."
Dr Samaila, who is the Dean, Postgraduate School, NOUN, said Obasanjo had put in enough study and intellectual rigours to earn the degree to produce his work based on diligent guide and supervision from his teachers and supervisors.
He said further that Obasanjo with matriculation no. NOU 14605890, had satisfied the requirements and thus qualified for the award of Doctor of Philosophy degree in Christian Theology of NOUN.
Mande said that Obasanjo, who was one of the university pioneer students would be conferred with the degree during the University convocation in 2018.
The External examiner, Prof. Gotan, said that the magnitude of work done by the former president was perfect, hence, the resolve of the Panel to award him with PhD.