In a bid to rekindle the Yoruba culture in a modern way, Oluwalowo Temitayo, a final year student of the Obafemi Awolowo University (OAU), Ile-Ife, Osun State, has recreated the ancient "atupa oloju-merindinlogun (16-point lamp stand).
Temitayo said the recreation of the lamp was borne out of his passion to explore pottery as an outdoor art to create a beautiful thing in the environment.
Speaking with Tribune Online on his project, Temitayo said: "The need to explore pottery as an outdoor art is not only paramount but expedient. The exploration can, however, be harnessed to explore the beauty of pottery as an outdoor art; with its durability to provide a new form that can beautify the environment."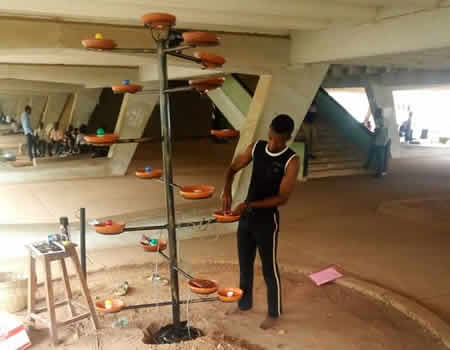 Atupa olojumerindinlogun (16-point lamp stand) is a mysterious Yoruba lamp that is always lightened once in a year, as part of the activities for the commemoration of the yearly Osun Osogbo festival.
Temitayo, a final year student of the Fine Art department, said he already heard so much about the mysterious 16-point lamp stand but has never seen it and that was what geared him to replicate it in order to showcase it to young individuals that could be curious about knowing how the lamp looks like.
"I have been hearing about this mysterious lamp since I was young and I decided to go and see it last year during the Osun Osogbo festival but I was too late and I couldn't see it then and this propelled me to replicate the lamp, because I believe there are so many other people like me who wouldn't be privileged to see it as well," he said.
Temitayo revealed that after the production of the lamp stand was approved for him as his final year project, by his supervisor, he had his major challenge of seeing how the lamp stand really looks like.
"My major challenge came from getting the accurate description of how the lamp looks like.
"Most of the pictures I got were taken at night but I eventually got a clearer picture of it after many months of searching," he narrated.
Temitayo said running electric cables into the pole was another challenge he encountered during the process, just as he expressed satisfaction and peace of mind for finally getting the project done.