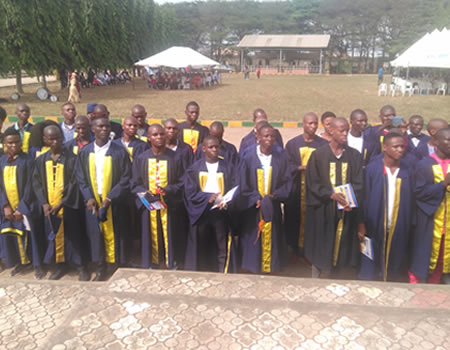 Mrs Ochai Ejura, the overall best graduating student at the Lagos Aviation and Maritime Business Academy's (LAMB) 10th convocation, says she never imagined she could become the overall Best Student as a nursing mother.
The News Agency of Nigeria (NAN) reports that 23-year-old Ejura came out as the overall best graduating student out of over 160 graduands of LAMB's 2017/2018 set in Ije-Ododo, Ijegun in Lagos.
Ejura, who studied Aviation Management at the college, said that she was thankful to God, excited and full of joy for graduating with good grades from the institution.
"I thank God for what the Lord did by helping me to graduate with good results, while still nursing a child.
"My aim when I gained admission into the institution was just to be a graduate; I never thought I could come out in flying colours with my position as a wife and mother.
"I intend to further my education for now, and wish to work as a cargo handling officer in the nearest future.
"It was not easy being a wife and mother and tackling my academic work but my late father was my mentor; he taught me hard work," she said.
NAN also reports that Ejura, a Kogi indigene, is married to a Guinea-Bissauan, and resides in Guinea-Bissau from where she came to Nigeria to further her education.
Dr Emeka Ndowu, the institution's Rector, told NAN that hard work had paid up for Ejura as seen by her performance though being a nursing mother.
Ndowu said that such excellent performance would serve as a morale booster to other graduating students.
He said that innovation was a centrepiece of the institution's re-engineering process, and was embedded in all of the school's programmes and reflected in the education standard.
                              ALSO READ: Unpaid allowances: Staff down tools, shut down NASS
Ndowu also told NAN that the institution was seeking to drive quality technical education that would transform the academic relationship it had with other institutions.
He added that it also sought to create new opportunities for students to pursue degree programmes in affiliated institutions after obtaining their National Diploma.
Contributing, Prof. Collins Ibe, the acting Chairman of the LAMB Governing Council, congratulated all the graduating students and advised them to be of good conduct in and out of the school.
"This academy has been in existence for eighteen years and it was ranked among the top five Maritime and Aviation academy in Nigeria in 2017.
"I am happy to inform you all that the Federal Ministry of Education and the National Board for Technical Education (NBTE) have appointed their members as representatives on our governing council.
"I therefore, advise the outgoing students to make use of the knowledge acquired in the institution for the betterment of society,'' Ibe said.
LAMB was founded in 2000 and graduates over 160 students annually