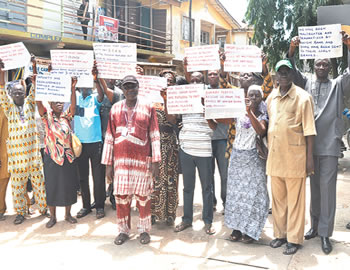 RETIREES of the Nigerian Social Insurance Trust Fund (NSITF), have called on the fund to pay their pension arrears that have accrued for more than three years.
In a statement issued by the chairman of the pensioners union, Barr Aham Mbazigwe Akonye and made available to Nigerian Tribune the pensioners said they have served the organisation meritoriously and demanded that their pension arrears should be paid accordingly as other ministries, agencies and departments have paid their pensioners their benefits.
They pensioners said despite several calls and demands forwarded to the Fund, the NSITF have not deemed it fit to clear their backlog of pension arrears.
"In spite repeated peaceful and rational demands, the NSITF has not deemed it wise, necessary or expedient to pay our pension arrears. Presently, the organisation has over 1,000 pensioners under the old scheme, however, the welfare of these pensioners is of secondary importance to the management of the scheme which is a source of concern and a matter of urgency that needs intervention," the statement added.
They called on the federal government to as a matter of urgency, intervene in the financial and human resource crisis in NSITF that is currently facing the Fund as it will go a long way in creating trust and also boost the confidence of intending retirees on the accessibility of their retirement benefits.