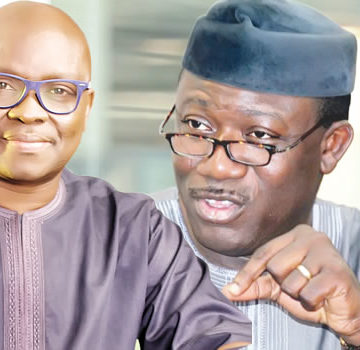 MEDIA aide to ex-governor Ayodele Fayose of Ekiti State, Lere Olayinka has described as an afterthought Monday's statement credited to incumbent Governor Kayode Fayemi that he would not probe Fayose.
Olayinka, in a statement released on Tuesday, said Fayemi only made this position known after he had checked the state's accounts and did not find anything incriminating against Fayose.
He avowed that Fayose was not afraid of a probe and had no skeleton in his cupboard evident in his reporting to the Economic and Financial Crimes Commission (EFCC), less than 24 hours after leaving office as governor.
He added that Fayose will not shy away from appearing before a duly constituted judicial commission of inquiry even if set up by Fayose.
             ALSO READ: Ekiti guber election: Again, APC chieftain sues Fayemi over alleged false information
According to Olayinka, it was rather incumbent on Fayemi to state that he had found no financial impropriety done by Fayose as governor.
The statement read, "After going through all the books and could not find anything incriminating, he is now saying he won't probe, who is telling him not to probe?
"Has he forgotten that it was at the same State House, Abuja that he said on July 19, 2018, that he was going to probe Fayose? So what has changed other than the fact that he has failed in his desperate bid to get evidences of corruption against the former governor?
"The fact is that Fayemi has found nothing against Fayose and that's why he has adopted a face-saving tactic."
"No one is asking Fayemi not to probe his predecessor. He is the one who was not bold enough to appear before a duly constituted probe panel, Fayose is not afraid and that was already demonstrated by the former governor's unprecedented submission of himself to the Economic and Financial Crimes Commission (EFCC) less than 24 hours after he left office.
"Let him set up a duly constituted judicial commission of inquiry today, Fayose will personally appear before the panel.
"Fayemi should act like someone with the conscience for once by letting the people know how he has been carrying operatives of the EFCC up and down, looking for what Fayose did and did not do. He should tell Nigerians how he harboured EFCC officials in the government house for over two weeks, lavished millions of naira on them and also misled them to go about sealing off properties belonging to innocent people in Ado Ekiti under the guise that they belong to Fayose."