Northern Elders Forum meets in Benue, insists on unity of the North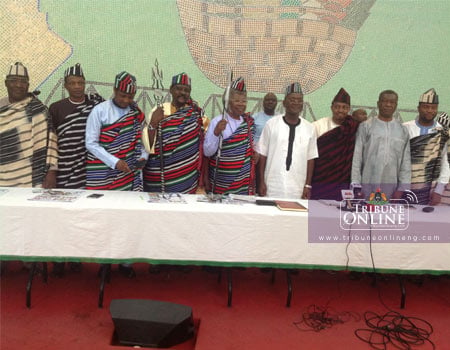 The deputy secretary of Northern Elders Forum, Barrister Mustapha Wali has faulted the federal government for not taking drastic steps to nip in the bud the constant conflict between farmers and Fulani herdsmen in the country.
Wali who spoke during the courtesy call of the group on Benue State governor, Samuel Ortom on Saturday also requested for details of the anti-grazing law recently introduced by the state government.
He further called on the state government to ensure that the anti-grazing law is treated with human face.
Speaking earlier, leader of Northern Elders Forum, Wataregh Paul Unongo said that the unity of the north is paramount to the group
Unongo led select delegation of Northern Elders Forum on courtesy visit on the state governor, Samuel Ortom.
The new leader said that their meeting is premised with the issues that will bond the north together in the face of daunting challenges confronting the region.
He further said that the leadership of the association fell on him with the demise of Alhaji Maitama Sule and maintained that over the years Benue has been part of the north.
Welcoming the elders into the state, Governor Samuel Ortom thanked the Northern Elders Forum for the support the group has extended to President Muhammad Buhari.
Ortom said that the words of elders are words of wisdom and further charged them to rally support for the president in the task of governance.
The governor however used the opportunity to intimate the elders the reason for initiating the anti-grazing law by his administration.
Ortom said that the wanton destruction of lives and property occasioned by the incessant attacks of herdsmen, prompted the state to come out with anti-grazing law which he said is now a global trend.
According to him, "the introduction of anti-grazing law is aimed to protect lives and property of people of the state including herdsmen, at the time we assumed office we were faced with insecurity particularly, herdsmen' attack."
"We tried other areas like series of meeting with herdsmen and farmers, fortified security apparatus in the state yet, there was no positive result, then having travelled far and near and discovered that ranching has become a global trend in curbing conflicts between herdsmen and farmers, we decided to initiate the executive bill."
"The state assembly also followed due process before its passage, public hearing was done and the herdsmen were in attendance at the end of the day the bill was passed into law."