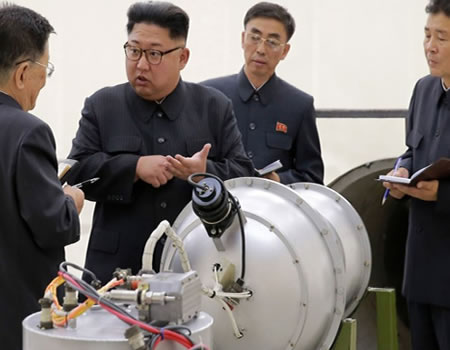 South Korea has said that it has seen indications that the North is preparing more missile launches, possibly an intercontinental ballistic missile.
It said it was strengthening its controversial US-made Thaad missile defence system after the North's test of a nuclear bomb at the weekend, BBC reported.
The South has carried out live-fire exercises in response to the test.
The US has warned that any threat to itself or its allies will be met with a "massive military response".
The North says it tested a hydrogen bomb that can fit on to a long-range missile.
Pyongyang has repeatedly defied UN sanctions and international pressure by developing nuclear weapons and testing missiles, and the provocations have only intensified.
In the past two months it has conducted intercontinental ballistic missile tests, sending one over mainland Japan into the Pacific Ocean. It has also threatened to fire missiles towards the US Pacific territory of Guam.
The United Nations Security Council is to hold an emergency meeting later on Monday to discuss its response.
Reuters in its report said South Korea disclosed on Monday it was talking to the United States about deploying aircraft carriers and strategic bombers to the Korean peninsula after signs North Korea might launch more missiles in the wake of its sixth and largest nuclear test.
The U.N. Security Council was set to meet later on Monday to discuss new sanctions against the isolated regime. U.S. President Donald Trump had also asked to be briefed on all available military options, according to his defense chief.
Officials said activity around missile launch sites suggested North Korea planned more missile tests.
"We have continued to see signs of possibly more ballistic missile launches. We also forecast North Korea could fire an intercontinental ballistic missile," Jang Kyoung-soo, acting deputy minister of national defense policy, told a parliament hearing on Monday.
North Korea tested two ICBMs in July that could fly about 10,000 km (6,200 miles), putting many parts of the U.S. mainland within range and prompting a new round of tough international sanctions.
South Korea's air force and army conducted exercises involving long-range air-to-surface and ballistic missiles on Monday following the North's nuclear test on Sunday, its joint chiefs of staff said in a statement.
In addition to the drill, South Korea will cooperate with the United States and seek to deploy "strategic assets like aircraft carriers and strategic bombers", Jang said.
South Korea's defense ministry also said it would deploy the four remaining launchers of a new U.S. missile defense system after the completion of an environmental assessment by the government.
The rollout of the controversial Terminal High Altitude Area Defense (THAAD) system at a site south of the South Korean capital, Seoul, is vehemently opposed by neighboring China and Russia, had been delayed since June.
North Korea said it tested an advanced hydrogen bomb for a long-range missile on Sunday, prompting a warning of a "massive" military response from the United States if it or its allies were threatened.
"We are not looking to the total annihilation of a country, namely North Korea," U.S. Defense Secretary Jim Mattis said after meeting Trump and his national security team.
"But as I said, we have many options to do so."
Trump has previously vowed to stop North Korea developing nuclear weapons and said he would unleash "fire and fury" if it threatened U.S. territory
Despite the tough talk, the immediate focus of the international response was expected to be on tougher economic sanctions.
Diplomats have said the U.N. Security Council could now consider banning North Korean textile exports and its national airline, stop supplies of oil to the government and military, prevent North Koreans from working abroad and add top officials to a blacklist to subject them to an asset freeze and travel ban.
Asked about Trump's threat to punish countries that trade with North Korea, Chinese Foreign Ministry spokesman Geng Shuang said China has dedicated itself to resolving the North Korean issue via talks, and China's efforts had been recognized.
"What we absolutely cannot accept is that on the one hand (we are) making arduous efforts to peacefully resolve the North Korean nuclear issue, and on the other hand (our) interests are being sanctioned or harmed. This is both not objective and not fair," he told a regular briefing.
On possible new U.N. sanctions, and whether China would support cutting off oil, Geng said it would depend on the outcome of Security Council discussions.
Chinese state-run Xinhua news agency said in an editorial North Korea was "playing a dangerous game of brinkmanship" and it should wake up to the fact that such a tactic "can never bring security it pursues".
While South Korean President Moon Jae-in and Japanese Prime Minister Shinzo Abe agreed on Monday to work with the United States to pursue stronger sanctions, Russia voiced scepticism.
Russian Deputy Foreign Minister Sergei Ryabkov said sanctions on North Korea had reached the limit of their impact. Any more would be aimed at breaking its economy, so a decision to impose further constraints would become dramatically harder, he told a BRICS summit in China.
South Korea says the aim of stronger sanctions is to draw North Korea into dialogue. But, in a series of tweets on Sunday, Trump also appeared to rebuke South Korea for that approach.
"South Korea is finding, as I have told them, that their talk of appeasement with North Korea will not work, they only understand one thing!" Trump said on Twitter.
Still, Trump's response was more orderly and less haphazard than he had offered to other hostile actions by North Korea.
His handling of its latest nuclear test reflected a more traditional approach to crisis management, which U.S. officials said illustrated the influence of Mattis and new White House chief of staff, retired Marine Corps General John Kelly.