Gone are the days when adults regarded noodles as only children's favourite food. These days, probably due to the economic downturn, noodles have become adults' favourite to the extent that noodles cooking joints are springing up in all the nooks and crannies of major states in the country and are recording high patronage. The two-minute noodles now take several minutes as noodles are now being prepared in different mouth watering ways It can be eaten as balanced diet; most people add egg, fish, or meat to their noodles, coupled with the dried vegetables that come inside the pack of noodle.
Do you want to try out the noodles stir-fry method? Here is the recipe and direction: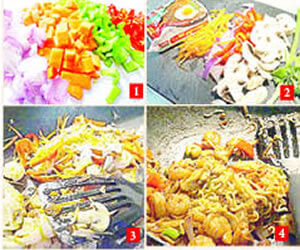 Ingredients
Noodles
Raw and well washed shrimps
Salt and pepper to taste
Dried basil
Tablespoons of stew if you have some or tablespoons of spaghetti sauce (the quantity depends on the size of the noodles)
Vegetable oil of choice
Direction
Add some salt, pepper and basil to the shrimp. Set aside.
Place a large sauce pan over medium heat, add the oil. Once the oil is hot enough, add the shrimps. Cook on each side for 2-3mins. Remove the cooked shrimps and set aside. Add in the stew or sauce to the pot. Simmer on low heat while you cook your noodles
Cook your noodles as instructed on the packet. Add the cooked noodles to the sauce. Combine and simmer for another 2 minutes.
Serve your noodles with the shrimp. Enjoy!
---
---