Noise pollution, invisible cause of ill health
Though sound can be a sign of life — from chittering of children — to the muffled voices from a neighbour's television, experts who spoke to SADE OGUNTOLA in this report warn that exposure to high levels of sound at home or workplace has detrimental health impacts.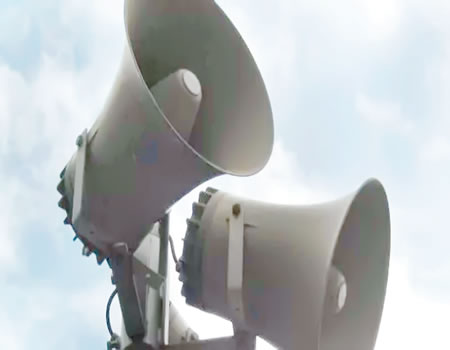 Noise pollution can cause health problems for people and wildlife, both on land and in the sea. From traffic noise to rock concerts, loud or inescapable sounds can cause hearing loss, stress, and high blood pressure.
Although it cannot be seen, noise pollution is present nevertheless everywhere. It is considered to be any unwanted or disturbing sound that affects the health and well-being of humans and other organisms.
There are many sounds in the environment, from rustling leaves to a thunderclap to the wail of a siren. Sounds that reach 85 decibels or higher can harm a person's ears.
Sound sources that exceed this threshold include familiar things, such as power lawn mowers, food grinders and loud concerts and religious meetings.
World Health Organisation declared noise in large cities as pollution (third after water and air). Most areas in the world have this menace. This menace has been on the increase due to population growth, increase in vehicular movements, high industrial activities and many others.
Dr Ayotunde Fasunla, an ear, nose and throat expert at the University College Hospital (UCH), Ibadan states that the negative effect of noise pollution will depend on its loudness and length of time of exposure.
According to him, any music or sound that is lower than 80 decibels is not likely to cause ear damage.
However, he says, "if you listen to sound at 80 decibels continuously for eight hours, it will cause weakness of the hair cells within the inner ear and cause damage.  Your ear can recover from this damage if you do not expose yourself to the loud noise again.
"But if the loud noise at 80 decibels is continuous for eight hours, such a person is likely to go deaf. If it increases to 83 decibels, you just need four hours to be deaf. If the loudness increases to 86 decibels, you need two hours to be deaf. If it increases to 91 decibels, you need just 30 minutes to be deaf."
However, scientific research into understanding the impacts of noise is increasingly showing the detrimental health impacts that exposure to noise pollution can have on different people.
Researchers in a new study that determines the health effects of noise exposure among instrumentalists in Pentecostal churches in Port Harcourt, Rivers State, found 39 per cent had noise-induced hearing loss (NIHL) and 38 per cent had tinnitus.
The 2019 study published in the Nigerian Journal of Medicine included F.E. Anyiam, K.E. Douglas. It involved 216 instrumentalists from 30 churches in Port Harcourt.
Although 80.56 per cent of them was aware that loud music can cause permanent hearing loss, only 19 per cent used hearing protection devices (HPD).
Howbeit, a significant risk of noise-induced hearing loss was observed in musicians who had experienced tinnitus, played only amplified instruments and had at least 10 years of music experience.
Noise induced hearing loss is highly prevalent in occupational settings. A study that assessed the workplace noise exposure level among 220 food grinders and other market traders in four markets in Calabar found a majority of food grinders (97 per cent) were exposed to noise levels greater than 85 decibels.
This study, a dissertation by Dr Abasi Ubong Akpakpan to the National Postgraduate Medical College of Nigeria (NPMCN), indicated a significant noise problem exists among the food grinders resulting in hearing impairment in excess.
A significantly higher proportion of these food grinders also had abnormal blood pressure compared with other market traders.
Meanwhile, the expert's assessment of noise from generators in four locations in Akure (two residential, commercial, and industrial areas) indicated that noise levels were above the permissible limits in a 2018 study in the journal, Environmental Research and Technology.
The average noise levels were between 88.7 and 90.5 decibels at Oke Eri Estate, between 81.7 and 85.0 decibels at Housing Estate; between 84.8 and 113.4 decibels at Stadium Road and between 81.9 and 90.0 decibels at FUTA Road.
Howbeit, an audiologist at the King Saud University, Saudi Arabia, Professor Dele Owolawi says m any Nigerians are losing their hearing abilities gradually due to noise from power generating set.
Owolawi who disclosed this recently in Lagos during a media chat, said noise from   power generating sets was one of the things killing Nigerians, adding that people are dying gradually without being aware of it.
Studies have implicated entertainment noise in contributing to the burden of hearing loss. An assessment of occupational noise exposure and hearing impairment among employees of nightclubs in Port Harcourt metropolis revealed that 71.1 per cent of the respondents had mild hearing loss.
The 2019 study in the Asian Journal of Medicine and Health found that average sound level of nightclubs in Port Harcourt metropolis was 100.9dBA.
Additionally, the majority (93.7 per cent) of employees work more than eight hours daily and most (98.8 per cent) of these employees do not use hearing protection devices.
Furthermore, hearing loss was associated with age, sex, educational status and previous exposure to occupational noise. Similarly, there was a relationship between duration of employment, job description and hearing loss.
Dr Fasunla says the impact of noise in concerts, nightclubs and the religious meeting is felt more because the  loudspeakers are placed on the ground or the level of the ear and are usually loud.
Continuous exposure to loud sound aside from causing hearing impartment may become a stressor that predisposes to hypertension, he added.
"You know when something happens that you do not like, it actually sends messages that lead to the release of cortisol and adrenaline, which are stress hormones that will shoot blood pressure up in those that are vulnerable over time," he added.
Vice chancellor, Lagos State University (LASU), Professor Olanrewaju Fagbohun at the 4th annual stakeholders interactive session on noise pollution control in Lagos State listed the physical and psychological effects of noise to include hearing defects, cognitive impairment in children, increased blood pressure, cardiovascular diseases, ulcer, headache, depression, sleep disorder and irritability.
Professor Fagbohun stated that "Other effects of noise on human health are emotional disturbance, low productivity at work, decrease in quality of life and life expectancy, while animals, vegetation and property are also not spared."
Alhaji Baba Lawan, Director, Abuja Environmental Protection Agency (AEPB) under the Federal Capital Territory Administration (FCTA) said that the agency had received numerous complaints by FCT residents on noise pollution from clubs, recreational centres, among others.
"Some FCT residents are complaining that their children don't sleep at night due to noise from loudspeakers used in some clubs and recreational centres, instead they sleep in the school when teachers are teaching them," he said.
He advised users of loudspeakers in clubs and recreational centres, churches, mosques to ensure they provide insulation that could prevent noise pollution to avoid sanctions.
Alhaji Lawan said the agency was also working assiduously to curtail noise pollution from generators and grinding machines due to the negative impact of fume on the environment and human health.