Nobel Prize for Food: Enugu Govt. lauds Adesina's innovation, pragmatism to agric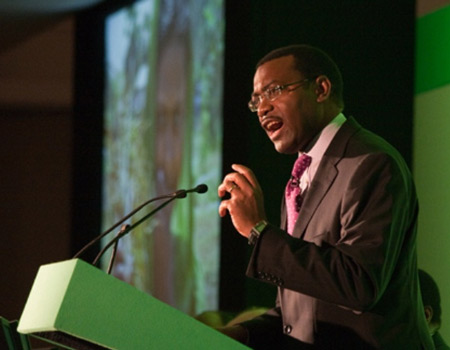 Enugu State government said on Tuesday that President of African Development Bank (AfDB), Dr Akinwumi Adesina, deserved the award of Nobel Prize for Food and Agriculture, also known as World Food Prize Laureate.
The state's Commissioner for Agriculture, Mr Michael Eneh, said this in an interview with the News Agency of Nigeria (NAN) in Enugu, while reacting to the emergence of Adesina as 2017 World Food Prize Laureate.
According to Eneh, Dr Adesina brought innovation and pragmatism to agriculture and agro-allied business in the country.
"He added much value to agro-products and produce in Nigeria; thus, giving agricultural goods great value for growth both domestically and internationally."
He said that Adesina, who was the immediate past Minister of Agriculture under former President Goodluck Jonathan, deserved the award for his enormous contributions to growth of agriculture in Nigeria, ECOWAS and the African continent.
He noted that Adesina through the AfDB had facilitated agriculture loans to agricultural initiatives of countries, state governments and big time farmers in the African continent.
Eneh, who recalled working under Adesina as a Director in the Federal Ministry of Agriculture, said that the former minister worked so hard to close the gap of the shortfall in rice production in the country.
"He also made Nigeria the biggest producer and exporter of cassava and all its derivatives in the World within the cassava value-chain scheme."
The commissioner said that the innovative E-Wallet system introduced by Adesina made it easy for Federal Government farm inputs to reach the rural farmers notwithstanding how remote their farms are.
"A great thinker, planner, who takes out time to monitor and evaluate what is happening in the field always, where the actual work lies," he added.
NAN recalls that Adesina was announced on Monday at Washington, D.C, as the 46th recipient and the sixth African to be so honoured.
The award ceremony would take place Oct. 19.
Announcing the new World Food Prize Laureate, Kenneth Quinn, the President, The World Food Prize, The Hall of Laureates, described Adesina as "someone who grew out of poverty, but whose life mission is to lift up millions of people out of poverty."
The prestigious 250,000 dollars prize is given annually to a person who has worked to advance human development by "improving the quality, quantity or availability of food in the world."
Over a 31-year existence, the award has become known as the "Nobel Prize" for Food and Agriculture.