No more good music, it is now showbiz —African China
Chinagorom Onuoha, popularly known as African China, has always been known for using his music to address some of the ills in the society as he keeps the government of the day on its toes. Having stayed away from the music scene for some years, the Mr President crooner is coming back with something for his fans. In this interview with SEGUN ADEBAYO, he speaks on his absence from music, his imminent return and what the people should expect from him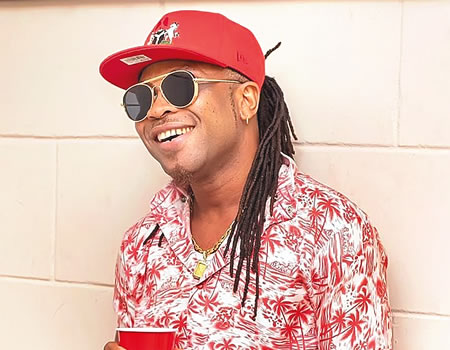 You have distanced yourself from the music industry for a long time.  You denied many of your fans new songs. What has been happening to African China?
You have attacked me with questions and you also tried to play smart by attempting to give me a soft landing. Let me start by saying that I have not distanced myself from the music industry and I will never do that. I think what many people have failed to realise is that I am not new in the music industry and so my approach to music has changed over the years. I have paid my dues and I am at a stage where If I have to make any music or drop new materials, it has to be top notch. I can't drop new contents and beg people to promote it for me. I have to push the song to the level that will be satisfactory. So, let me make it clear that African China has been fine and I am doing very well with myself.
How does it feel not dropping songs for years and what have you missed?
I tell people that I don't miss anything because I am not far away from the industry. What is there to miss? I understand the industry and how things work. I have been going through a rebranding process and I am working with a new management now. I can assure you that very soon, you will begin to hear something nice from me.
You came into people's consciousness through music and you were one of the musicians that gave people hope with your conscious music but you have not had major impact on the music scene for some years- no new songs or videos. What has been keeping you busy away from music?
I have been playing music and I am not quitting as some people may have suggested. If you say I have not dropped new songs for some time, you are right but my name and the impact I have had on the music scene cannot be forgotten or looked away by anybody. African China remains a great act from Nigeria. Everywhere I go, people talk about me. They know me and they know my songs and sound.
You may have not have it rosy as it used to be…
Even if I have not released a song in a recent time, I still have the vibe that can sell any show or event. All my songs are evergreen that people still love till today. Who does not love or remember Mr President (2006); The Return of the Legend (2008); No Condition is Permanent; London Fever. These are songs that were released over ten years ago and are still very relevant to what is happening in Nigeria today. Music has been keeping me busy. Something big is actually coming from me this year. My fans should wait for the big news.
Are you making a comeback permanently this time?
Yes. Why did you ask if it will be permanent?
I asked because you once said you were back some years back…
I was back and I never left. This time I am not going to deny my fans good music again.
Are you saying there are no good songs out there again?
You can ask yourself that question again. What you have out there now is show business not music.
The last hit song you had was about 15 years ago, how are you going to make a comeback this time and carry the people along?
The people love and recognise good music, no matter how long it takes. Some of us who have been around for a while understand this and we are conscious of the kind of music we put out there for our fans. If after 18 years, some of the songs I released back then are still relevant today and people love them.
I think the music industry has moved away from your type of music; it seems nobody cares about conscious music again save for Falz and a few others. What do you think about this?
I think you should wait for my next single to find out if people are still listening to my kind of song or not. It is over 20 years that Fela Anikulapo died; can you say his music has been forgotten? His Afro style has been adopted by today's hip hop artistes and they are touring the world playing his sounds and style of music. What I am trying to let you understand is that good music does not die even if the singer is no more. For somebody like me, who has devoted a great part of his life to create music contents that many people have come to love and appreciate, I don't have any fear about coming back now to take the big stage. It is not new to me. I understand the music industry very well.
What are your plans for the comeback?
I am releasing a couple of singles very soon. My producers and I have been working day and night to ensure that we don't serve anything less to what people have known me for. The industry has got to a level where you have to speak with the right set of people and have a Memorandum Of Understanding (MOU) with anyone that will be handling your job for you. If they fail to live up to the expectations then someone will have to pay for not doing their job well. What you have in the music industry now is not music but show business and I am not ready to jump on the bandwagon.
Songs released these days hardly last for three months before you don't hear them again. You have songs that are still quite relevant even after 15 years, what do you think is the problem with this generation of musicians?
I think the problem is with the artistes and the media. The artistes don't understand what they are singing or they don't care about what they serve the public. Then the media picks this song and play them to the people who take it from there to clubs and other places. That's how the trend continues but it does not last because the songs don't have any substance-no positive message that can change the mind of the people for good. The young ones don't understand what it means to make relatable songs; everybody wants to make money. The Yahoo boys love the songs and are ready to spend a fortune on at clubs where these songs are being played. The fact is that in the next five or ten years, you won't hear anything from these people or their songs again.
How do you feel about the music industry today?
Meaningful and conscious songs are missing today in the music industry. If you say the industry has improved in the area of sound and exposure, I agree with you but when it comes to meaningful songs, it is a far cry for what we used to have back then but we must not give up. The good job must continue. I will remain a sad man if good music does not come back to our consciousness.
You have been very critical of the government of the day, have you seen any changes as of today?
I have not seen any and this country is not changing. The truth is that those in the position of leadership are not truthful. The country is not getting better. We have to say the truth to power. Look around you and ask yourself if things are getting better or if there is any hope for the young generation in this country.