No IDPs will be disenfranchised in 2019 —Hon. Bature
Mr Rufus Bature is a former Secretary to the State Government in Plateau State and he is now contesting for the senatorial seat of Plateau North on the platform of the All Progressives Congress (APC). In this interview with ISAAC SHOBAYO, he speaks about his aspiration and other issues. Excerpts: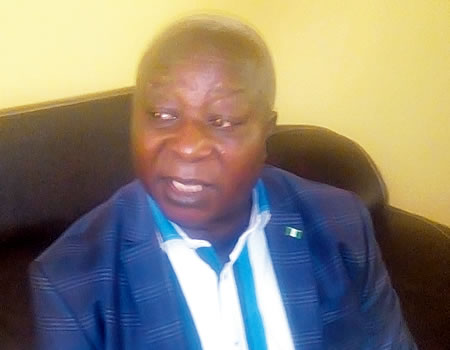 WHY did you resign as the Secretary to the Plateau State Government to contest for Plateau North Senatorial seat?
The motivation is to use my eight years experience as a member of the Plateau State House of Assembly this time around to represent the interest of Plateau North; that is why I resigned my position as Secretary to the State Government. As a legislature you are directly answerable to the people, you have the franchise of the people but as a Secretary to the Government, I have a limit to which I can project and address the problems of my people but as a legislature, the spectrum is wide. Basically that is the reason why I resigned as Secretary to the State Government.
What are the specific things you want to achieve?
My campaign slogan has changed from the bridge to the motto which says 'Get Involved.' I am asking the people to get involved in what will form part of our legacy as a people; our people have been visited with crises, the six local governments particularly the three which belong to my own tribe have been so devastated by crises. I have looked at it from different dimensions, that is why when I was appointed as the Secretary to the State Government, I advised the governor and we engaged in consultations and for three years, there was no killing but suddenly the situation changed but thank God we are beginning to enjoy the relative peace we had in the first three years. Before now people committed crime and went scot free but I can assure you that with what government is doing, kingpins have been arrested because at a point it snowballed into criminality that people were benefiting from what was happening and I am sure in the near future when people are arraigned with the new laws that had been passed and prosecuted, I believe that would serve as a deterrent. There is one thing I want people to know, we can only curtail crisis but it might not end completely because there are people who want the crisis to continue because they are benefiting from it in one way or the other. Some may not want it to end because they want to supply maize, so he wouldn't want IDPs to go. Somebody is interested in buying guns and bullets and there are those benefiting in going to bail people. The ramification of the whole thing is that crisis that visited us on the Plateau was unfortunate, even the security might not want it stop because of the security allowances. This crisis has changed the perception of people in Nigeria about Plateau State especially in Northern zone. If I am elected into the Senate, I will use my position to change this perception and project Plateau in a different perspective. I want to tell you that people of Plateau State are good people, I think what happened was that for a very long time we allowed things to go the way they went, there was no confidence building, there was no dialogue and criminals were left unpunished, all these make crisis continues unabated.
The general belief is that Plateau North, especially the Berom enclaves within the zone is predominantly PDP, how are you going to weather the storm?
In 2015 when we started campaigning in Berom land, some us were looked at as if we were rebels but we said no and that we are rebels for a course, there was no Berom man that was campaigning for governor and senator, yet we were able to squeeze water out of stone. In my local government alone, we came out with about 13,000 votes, today, it is a different story, a lot of people have changed from PDP to APC in Berom land, I don't want to blow my trumpet, let us wait for 2019. The PDP in 2015 did not believe that they can be dislodged from power and it was so bad that they were the loudest and that pride is still there and there is why they would continue to hammer that in Berom land, it is just PDP. Nobody from APC has joined PDP, many people from PDP have come back to APC and those that matter have come to APC. I can assure you that with what I have done as Secretary to the State Government, the governor gave me some leverage when it comes to bringing people on board, I can tell you that about eighty percent of the political appointees in the Plateau North, I recommended to the governor and he approved.
In your senatorial district, there are lot of IDPs who had lost their PVC, what are you doing in conjunction with the government and INEC to ensure that they are not disenfranchised in the coming election?
I can assure you nobody will be disenfranchised, the government in collaboration with INEC will address this situation.
The belief is that the Berom are not faring better in this administration, especially from the perspective that the IDPs are neglected by the State Government?
It is unfortunate that people have politicized crisis, also it is unfortunate that some people celebrate political achievement with the death of people. Some people are not even happy about the efforts of the government to bring peace, they would prefer a situation where there is continuous killings to portray the government in bad light. Everything that the government is doing to alleviate the suffering of the people like the relocation of the people who even left their villages in 2001.
, government is trying its best to ensure that they return to their ancestral home, in fact government has given a deadline, the first batch will go back by December 21 in collaboration with the security agencies. Some people are not happy; they are saying that the killings have stopped because of politics, that treachery and wickedness. I am not in government again but still advising the government to continue with what it is doing. We don't want to make comparison but before the worst happened in Plateau State, these people that are shouting on top of their voices never say a word but today because they are not in government they are shouting. But with clear conscience, what Governor Lalong is doing especially to the Berom is fair. They accused me and the governor that we never visited the IDPs camp initially but we were advised by security then that it was not the right time for us to visit, the day we attempted at Angludi, we were pelted with stones, and my windshield was broken. They prayed that the governor never visit the IDPs so that they can use that as campaign tool, so when he did, they turned violent. When he visited Gashishi, they never believed that he can match his words with action.
In the senatorial primary you defeated some political giants, like Edward Pwajok, Lumumba Dah-Adeh and others, what are you doing to bring them on board especially in your campaign?
As far as I am concerned, they are my good friends, they are eminently qualified to contest, I respect them; they gave me a very good fight which I have learnt so many lessons from. We are appealing that everybody should come on board, it had happened to me before, if it was not me I would still walk up to them and say let us work together. Some of us nurtured APC on the Plateau, we started from the scratch. Back to your question nobody has come out to say he is aggrieved, I have constituted my campaign and I have brought in some of their directors.
Sir, with the prevailing situation on the Plateau do you think Governor Lalong can win 2019 election in a semblance of 2015?
Governor Lalong is humble man who believes in the unity of Plateau State, he also believes that the people of Plateau should not remained where they are. I always tell the opposition that it is good to criticize but it should be constructive criticism and at the same time proffer solution. If I become a senator I will ensure that we all work together for the benefit of our state. Sometimes you have a governor, minister and other elected persons but the relationship is not cordial, if  we can put our heads together we would achieve a lot of things in common and bring desirable projects to the state instead of bickering over nothing. We should put Plateau first, if today I am a senator today and another government comes in 2023 because 2019 is already settled, I will work with that government for the interest of Plateau, we collaborate with one another for goodness of our state.