NLC kicks against Ports and Harbours Bill … Says sponsors of bill are economic saboteurs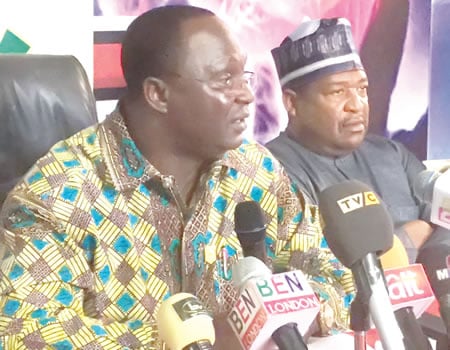 THE Nigeria Labour Congress (NLC) has kicked against the Ports & Harbours Bill and backed the Maritime Workers Union of Nigeria (MWUN) plan to stop the National Assembly from passing the bill.
The NLC President, Ayuba Wabba has also described the sponsors of the bill as "economic saboteurs who are solely driven by greed."
The MWUN had recently protested against the bill saying it would lead to massive job loss at the Nigerian Ports Authority (NPA).
The bill which seeks to repeal the NPA Act of 1995, has been passed by the Senate, but awaiting concurrent passage by the House of Representatives.
The NLC president, who was speaking when the leadership of the congress paid a familiarity visit to MWUN headquarters in Lagos, said the NLC and the union will jointly engage the National Assembly to enable lawmakers see reasons to kill the bill.
Comrade Wabba said: "We have heard about some of the current challenges that this sector is going through. What is driving that process is actually greed.
"The management of our port is about our national security. If you take away the responsibility of NPA and put it into private hands now that we have seen arms and ammunition being imported into the country on daily basis, it means we are putting the lives of Nigerians and our security on the line.
"I therefore urge government to actually look at this scenario because a lot of other countries also want to undermine our security, national and economic interest.
"Therefore this bill will aggravate that particular problem. This particular bill is not out for the welfare of Nigerians and workers. Because of this, the bill is not desirable."
Comrade Wabba decried the attitude of the Federal Government for neglecting the port access roads.
He said: "The maritime sector is the economic nerve of any country. Every business has something to do in the maritime industry either directly or indirectly you must have something to do in the ports.
"And therefore for the state of our roads leading to the port to be in such state is an aberration and I want to use this medium to call on the federal government to, as a matter of urgency, fix the road because this is the nerve centre of economic activities.
"There must be a prompt consideration to the roads leading to our port and priority given to what is important."
Wabba commended MWUN for maintaining peace at the port despite the challenges faced by members of the union.
He said: "I know what the situation used to be especially within the period of 1998 up to 2000 in our ports and particularly what the situation of the union is all about. But since Irabor, Nted and now Adeyanju came into the leadership of the union; peace, stability and progress have actually returned to the union and this I think should be commended and I acknowledge it."
The President General of MWUN, Comrade Adewale Adeyanju, commended the NLC President for the visit, adding that he was confident that with the support of the NLC, the bill will never see the light of day