The Nigeria Postal Service (NIPOST) recently announced new regulations for courier and logistics businesses. Among the new regulations announced is an outrageous new license fee. Although Isa Ali Pantami, the nation's Minister of Communications and Digital Economy, in a recent tweet, expressed his disapproval of the regulation and ordered that it should be suspended, the government needs to do more given that if this proposal is approved, it will cripple the courier services and logistics industry.
In its new regulation, NIPOST stipulated that international courier services like DHL, UPS and FEDEX will pay ₦20 million for a new license; companies that operate nationally will pay ₦10 million while small and medium enterprises will pay ₦250,000 as license fees. Also, all are expected to pay 40 per cent of these fees yearly as renewal fees.
Through its spokesman, Franklin Alao, NIPOST said the new regulations were not planned to frustrate ease of doing business but to promote the growth of Micro, Small and Medium Enterprises as well as create a sense of sanity and trust since consumers will know the capacity of the operators they want to deal with.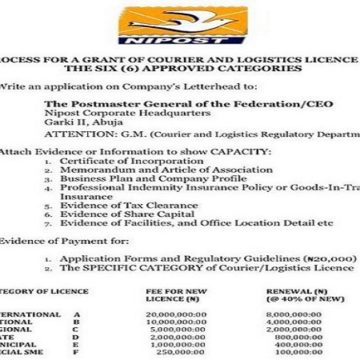 He remarked, "Where there can be issues is where a courier logistics company with [a] capacity for a local government area wants to operate on a state-wide or nation-wide scale. This would not be acceptable. If your license is for a state, limit your operations to the state region."
But this regulation is needless and should be reversed.
Nigerians are already feeling the impact of the COVID-19 pandemic. A survey conducted by the country's Bureau of Statistics (NBS) revealed that about 4 in 10 Nigerians who were working before the COVID-19 outbreak lost their jobs in April. This is not inclusive of the unemployment rate, which was pegged at 23.1 per cent as of the third quarter of 2018 and the hundreds of thousands that graduate per year flooding the job market.
As the Vice President, Yemi Osinbajo, puts it, the country's unemployment rate may rise to 33.6 per cent (34.9 million people) by the end of 2020 if proper measures are not taken.
For a country with this worrisome unemployment statistics and which is also regarded as the world's poverty capital, stifling economic regulations is not the way forward. With all these sad realities, the only necessary thing a government should do is to protect its citizens' means of livelihood and not further cut them short. However, the opposite may be the case with this regulation.
As noted by the World Bank in its 2020 Doing Business Index, barriers to market entry in developing economies lead to an income gap. They prevent growth and lead to persistent poverty. If the new regulation is allowed to stand, many Nigerians who operate in the logistics and courier services sector may lose their jobs and several customers may find it hard to grapple with high delivery fees, which will be a consequence.
NIPOST's spokesman also noted that the move would drive charlatans out of the industry. Whereas, illegal operators cannot be driven away with a high license fee or restrictive business environment. Instead, with such conditions, NIPOST will drive legitimate operators to the illegal lane.
NIPOST should not limit the capacity of businesses to operate at any scale they desire with this outrageous measure. The new regulation should, therefore, be reversed. If in any case it is approved, one of two things is bound to happen: either illegal operators who evade the regulations fester in the courier services sector, or small businesses go down.
Daniel Whyte is a writing fellow at African Liberty with an interest in development. He is a Future News Worldwide 2019 Fellow with British Council Scotland and Climate Tracker. He can be reached on Twitter via @_DanWhyte.
YOU SHOULD NOT MISS THESE HEADLINES FROM NIGERIAN TRIBUNE
Magu Cries Out Over Fair Hearing, Lawyer Writes Salami Panel
SUSPENDED acting chairman of the Economic and Financial Crimes Commission (EFCC), Mr Ibrahim Magu, has told the Ayo Salami-led Judicial Commission of Inquiry that his rights to a fair hearing are being violated. This is contained in a letter written by Magu's lawyer, Mr Wahab Shittu, dated August 11, and addressed …
FG To Deduct Money From States Over Double Taxation
THE Federal Government is set to sanction states engaging in double taxation in the country, as the Federal Executive Council (FEC) has asked the Minister of Finance, Budget and National Planning, Hajia Zainab Ahmed, to deduct money from the source from those states…NIPOST will cripple Nigeria
Insecurity: NGF Calls For Investigation Into Obadiah Mailafia's Allegation
The Northern Governors Forum (NGF) has called on security agencies to investigate the allegation by a former Deputy Governor of the Central Bank of Nigeria, Dr Obadiah Mailafia, that "…one of the Northern governors is the commander of Boko Haram in…NIPOST will cripple Nigeria
FG Set To Pay N22.6 Billion Final Entitlement Of Ex-Airways Workers
THE former workers of the defunct national carrier, Nigeria Airways, may soon have cause to smile as indications have just emerged that efforts are on top gear to ensure the payment of the final batch of their benefits. Information flittered out early in the week of the ongoing move by the Federal Government to offset…NIPOST will cripple Nigeria
UNILAG Council Appoints Omololu Soyombo As Acting VC
With the removal of Prof Oluwatoyin Ogundipe as Vice-Chancellor, University of Lagos, the governing council has appointed Prof Omololu Soyombo as acting vice-chancellor. Registrar of UNILAG, Oladejo Azeez, in a statement also confirmed that Ogundipe was lawfully removed as vice-chancellor at an emergency meeting…NIPOST will cripple Nigeria