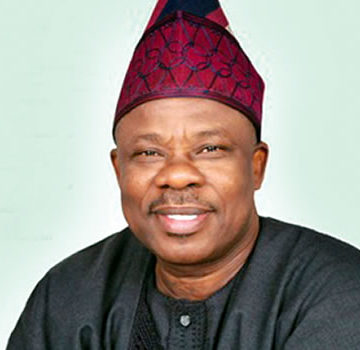 GOVERNOR of Ogun State, Ibikunle Amoson has knocked the political elite for being behind the nation's numerous problems.
Speaking with State House correspondents on a media workshop in Abeokuta 
on Friday
, he observed that mischievous persons latch on divisive issues for personal interest.
According to him, doing what is right for the sake of Nigeria's unity is a sign of strength rather than weakness.
He, therefore, urged
citizens
to refrain from inflammatory remarks.
He said: "There is no nation without its challenges. It is the way we manage our challenges really. When we have issues, we should not come out and say what will inflame the country or through write-ups and comments. I think we should talk more about those things that unite us.
"When you look at us as a nation, I hope I will not be roasted for saying this, it is we the elites or politicians that are more often than not for selfish reasons that try and bring those things that will divide us.
"An average
Nigerian
either from the north, south, east, west are their brother's keeper really. But when people want to be mischievous they now bring dichotomy, ethnicity, religion and all of those.
"I think where we are as a nation we should be above board. When things are not going well, we should be bold enough to say, we should do these things differently. But when we are speaking, we should measure our words. That's not a sign of weakness really but the sign of strength if we do those things that unite us as a nation. And I think that is the issue."
On the media, he admonished them to be measured in what they publish.
He added: "I'm not saying don't write about it. Write it but it must be measured. It is like getting to an accident scene and you see pictures of people dying even for the families of those affected, it will not be good.
"Yes, we can still report but we can still manage to get the message across without necessarily fanning the ember of things that will split us.
"I have always argued that there is no way the part will be bigger than the whole. If the whole is well put together, that is where our strength lies as a nation really.
"Our diversity and population is our strength. This should strengthen not weaken us.
"Tell us the things we are doing that are not right and project the ones we are doing right as well. It will help us not shirk in our responsibilities as our people will be the beneficiaries."
The governor lauded the theme of the media workshop,  "The Role of The Media in Peace Building: 2019 in Perspective," adding: "You are the people who see the entire Nigeria. These are really trying times, these are challenging times and it is good to see people who are still doing their jobs professionally.
"I want to challenge you to do more. I like the theme of your workshop but after deliberations, share the outcomes with others so that we can learn. Share your thoughts with us, use your platforms to tell us the truth.
"Write what you see because, for me, criticism is part of what a leader needs once it is in good fate. For me, when you say it the way it is even though sometimes we may not like it, but we can look at it and see how we can do it better. I believe if we all do that Nigeria will be better for it."
Amosun said the population of Ogun state now stands at 7.2 million but increases to about 10 million during religious activities in the state.
According to him, "We are 7.2 million but the population increases to about 10 million during religious activities in the state.
"We see challenges as an avenue for opportunities that is why we are leveraging on our proximity to Lagos.
"As a matter of fact, we are the religious capital of Nigeria because when they are having Shiloh by Winners Chapel, Holy Ghost Congress by The Redeemed Christian Church, Power Must Change Hands by Mountain of Fire and Miracles Ministries (MFM), Deeper Life, Foursquare Church, NAFSAT…so, we benefit from  prayers  as well as from the necessary payments they are making to the state."