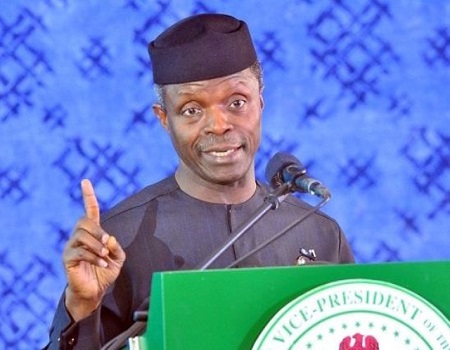 VICE President Yemi Osinbajo has affirmed that Nigeria's checkered history will not be what determines its future but the hard-working youths of the country.
Declaring open a photo exhibition to mark the 2018 Independence Day celebration in Abuja on Tuesday, he noted the different phases in the country's development which he observed were trying times for Nigeria.
He said: "I am pleased to say on behalf of the Nigerian government and people that we have chosen to say that our history will not determine our future, our history is the least that we can ever be, our future is much greater, our history is only a precursor to a greater Nigeria, to a Nigeria that is prosperous, united and where all of us are treated fairly and justly.
"Our history is only the beginning of that great Nigerian story that all of these people who have won awards represent; that they are going to be better than those of us who sit here today, these young people represent that history and pride that our nation represents."
ALSO READ: #OsunDecides2018: We have discovered 4,387 votes removed by INEC from our ballots – PDP
The Vice President, in explaining the importance of historical excursion observed that it "helps us to recognize the incredible leadership of our political leaders, from the colonial days till the moment. All of these incredible leaders, men and women who have shown such great wisdom and wit at various times; such dedication and courage at various times; this exhibition celebrates them."
He added: "The second is that we are reminded of the twists and turns of our history. The colonial phase, the independence, the first republic, the political crisis, the coups and countercoups, the civil war, the short restoration of civil rule and another military incursion and then civil rule since 1999.
"Each phase has tested our resolve to remain united, to maintain the integrity of the country known as Nigeria. Each phase has tested the commitment of our leaders to the Nigerian project; it has tested their ingenuity and their wisdom in navigating the frequently tortuous and turbulent waters of our national story.
"With the benefit of hindsight, I think that it is evident that at every turn we clearly saw strength of the Nigerian resolve to build a nation and the valiant attempts of the leadership at state building.
"We have not always excelled or have not always done as well as we should. But that is not the story. The story is that we have never lacked the courage and will to keep trying, and to do so with greater resolve and greater commitment.
"The third reason for the importance of this historical excursion is perhaps the most important. How we approach history. History could be a crutch; it could be an excuse for not doing as well as we could, or a strong shoulder to stand on. It could be a tyrant reminding us of how we got it wrong, or it could be a reminder that our future is greater than our history."
Osinbajo commended award recipients at the event, including John Chinyere of Federal Government Boys College, Gudu, Eunice Shagu, Stella Maris College, Garki and Vincent Davies of the Model Secondary School, Maitama, noting that "they represent the very best, they represent that generation of people who will definitely do what we have always hoped for and desired."