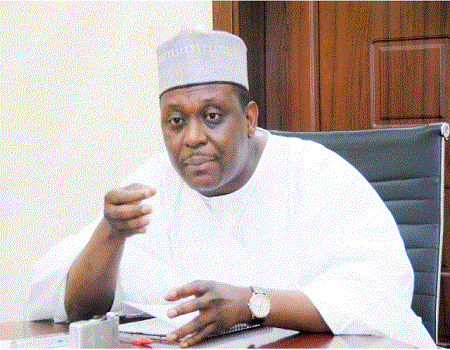 FORMER Minister of State for Health and a chieftain of the All Progressives Congress (APC), Dr Muhammad Ali Pate has taken a swipe at the current nation's education system, lamenting that it was in a state of crisis.
Dr Ali Pate, who, therefore, called for the urgent reform of the entire educational system, from basic to secondary, vocational/technical and higher education with a view to quality and equity in access and outcomes, said the country lacked leadership that embodies the spirit of stewardship.
Delivering his speech at the 10th anniversary of Financial Nigeria Magazine with the theme: Nigeria's Sustainable Development Agenda in Abuja, the former minister said, that was one of the central reasons for the lack of performance as a country.
According to him, Nigeria's education system is in a state of crisis. At the basic education level, public education is largely dysfunctional and of poor quality. Private education for those who can afford is the option that most well-to-do parents choose. In some parts of the country, literacy and numeracy rates among five to 16-year-old children are only about one-third. More than 10 million children are out of school.
"We have become numbed to accepting a form of social apartheid, where children of the poor are left to a broken education system while the elites send their children to private schools or abroad. All available evidence shows that national investment in quality education is among the best investments that a nation can make for its future," he added.
He said for the country to return to the path of sustainable development, all Nigerians must step up the game as a country and no single Nigerian must leave behind, saying the country was currently in weak position, especially with the Sustainable Development Goals (SDGs) timeline but Nigeria might still achieve it through sincere and determined actions on the path of both the leadership and followership at various levels in the country.
"We should urgently reform the entire educational system. We should leave no child behind. We have had individuals who could exercise authority, but who failed in exercising leadership as stewards of our heritage and commonwealth, which belongs to current and yet unborn generations of Nigerians.
"The lack of stewardship mindset is reflected in our dysfunctional politics, where politicians are scrambling to seek for this office or the other, without articulating a clear vision of where they would lead us or much of ideology or developmental agenda other than getting into office.
"Our political system has consequently adopted mediocrity as its central ethos, without regard to competence or character. Instead of pursuing development, some of our political leaders appear to be consumed perpetually with the "next" election.
"Political parties have reduced to mere vehicles for entry to office. Even the current ruling APC, which came to power with popular mandate in 2015, is now on the verge of making a similar or worse blunter as the Peoples Democratic Party (PDP), if it adopts a dual track measure of justice for its aspiring candidates in the upcoming primaries. One for the President as popular, another for the State Governors defined primarily by self-interest and lack of respect for popular will.
"Fighting corruption has sometimes become limited to symbolism, while the social epidemy has continued. Otherwise, how can we explain that a popular party that came to power to fight corruption, is asking aspirants to spend up to equivalent of $120, 000 to apply for candidature, in a country where almost half the population is living on less than $1.90 per day?" he asked.
ALSO READ: Evans denies making confessions detailing his career as kidnapper to police
The former minister stated that the political and administrative accountability mechanisms were weak or almost non-existent, and arbitraries in some areas is becoming the norm.
He added that Nigerians, especially politicians have effectively squandered an opportunity to utilize the natural resources they obtained purely by chance, instead of investing to uplift the peoples' lives, political elite, by commission or omission, chose the path of short-term comfort and purchase of loyalty through economically unwise, or corruption-riddled national expenditure, at the expense of economically sound investments in both human and physical assets to transform the nation.
In his remarks, the United States Ambassador to Nigeria, Mr Stuart Symington, whose message was delivered by USAID Mission Director, Mr Stephen M. Haykin, said there were many reasons for the United States to be bullish on Nigeria.
According to him, the people of Nigeria are dynamic and diverse; there is a strong entrepreneurial streak and there is an abundance of highly talented professionals with a vast array of skills.
He said there was considerable, untapped economic potential in the country, saying Nigeria could certainly supplement its natural resource-based economy with increases in agricultural production and agro-processing, manufacturing for a large internal and regional market, and service provision.
Mr Symington stated that one of the commercial contacts has created hundreds of jobs in call centres serving clients around the world.
Earlier in his welcome address, the Managing Editor of the magazine, Mr Jide Akintunde, said despite the enormous challenges encountered when started in the past ten years, the magazine was able to surmount the hurdles, in which Nigeria identification was good for business.
He, therefore, appreciated the subscribers for their sustainability, urging Nigerians to set agenda for the country.