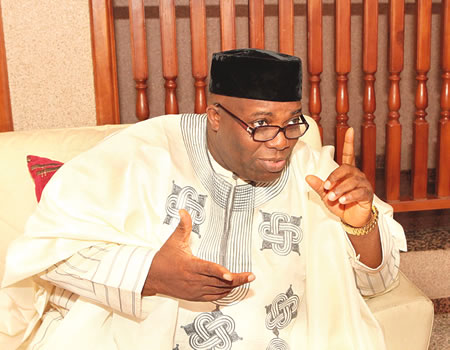 Doyin Okupe, Special Adviser on Media and Publicity to the immediate past president, Dr. Goodluck Jonathan, is now the South-West leader of the Accord Party. He speaks on topical national issues in the country. ABIODUN AWOLAJA brings excerpts:
Senator Rashidi Ladoja, one of the leaders of Accord Party, is now back in the PDP. How do you see this as the South-West leader of the party?
All politics is local, as they say. The primary motive of Senator Ladoja is to look for a way to wrestle power from the ruling party in Oyo State which he had tried so often and but was unable to satisfactory do in recent times. I have held meetings with him and he has figured out that unless he is able to put together a coalition, he may not be able to confront the All Progressives Congress (APC) machinery. And in doing so, the majority of the tendencies in Oyo State tilted towards the PDP. I was there in one of the meetings when a delegation from Oyo State came to him to lead them into the PDP. They believe that is the only way to unite and take power from the APC. He conceded and that was why he went to the PDP.  But I don't think he is well treated in the PDP. You really cannot say he is in PDP now. He is more or less in limbo now. He is not in PDP and not out of PDP. But I know for a fact that they are looking for ways to achieve their original objective.
What is your take on the spate of killings in the country?
Every sane Nigerian must be worried. I am more than worried. In fact, I'm perplexed. Something profoundly evil is going on in the country. The bloodletting is too much. The frequency and viciousness of the attack is confounding. What is more perplexing is that we cannot really see the efforts by the government to counter this evil. I have said it to many people and on my social media platforms that this is beyond Fulani herdsmen and farmers clashes. I may be wrong and may be right. It no longer makes sense to assume that. I don't think President Muhammadu Buhari was too much out of order—-perhaps he didn't put it well when he said these are people trained by Muamar Ghadaffi. What he probably had meant to say was that people that were trained in Libya had come down and are wrecking havoc in our system. That would have been more credible.
There is also a shade of opinion that what we are seeing is a breakaway faction of Boko Haram that has actually teamed up with ISIS. The signature we are seeing in these attacks is mindless killings, arson and massive destruction. This is so typical of ISIS operations. It is better for us as Nigerians and those who lead us to come to terms with this reality. They will not want to sound alarmed that we are not through with Boko Haram yet and we now have ISIS, which may bring panic. Let us speak the truth and let the devil be ashamed. We have ISIS operating in Nigeria and it is another form of extreme Islamic fundamentalism in a very vicious and dangerous form. If you look at it, Boko Haram is located in the North East and not going beyond the zone. But if you see what is going on now, we have some very serious attacks in Benue, Jos, Kaduna, Zamfara, Kano, Kogi, Edo and Ekiti. That is no longer Fulani herdsmen attack. By my own understanding, the Fulani herdsman is very protective of his herds. He overreaches himself in the provision of food and water for the herds. I don't see a Fulani man after having fed his cows, burning the farm in which the cows have eaten and going to the villagers that own the farms to kill and burn them. It doesn't make any sense. That has gone beyond tendering cattle. It is something that is beyond 400-500 years. It has been from the time we existed here.
These Fulani go around West Africa with their cattle in search of food and water. They metamorphosed into armed militias. If strange, it is not in conformity with what we have. And it is a misnomer to say there is a Fulani /farmers clash. A clash is when one group fights another. No farmer is clashing with herdsmen here. Unfortunately, the government is headed by a Fulani and tends to protect the image of other Fulanis that they are not killers. But there is no need to protect what is not true. If there is anything to protect, it should be the lives and properties of Nigerians. Impression is being given that it's Fulani people that are involved in the mayhem. So government must try as much as possible to remove this toga.
The transfer of unappropriated funds to the United States for the purchase of Tukano helicopters has generated controversy…
The purchase of the helicopters was something that originated from the National Assembly.  It was when a team from the United States visited the National Assembly that this idea emanated from their discussion. Some people defend the government on account of the Supreme Court judgment that declared the Excess Crude Account illegal account. Therefore, any withdrawal from it should  not follow legal process, But as far as I'm concerned, it doesn't make sense. Two wrongs do not make a right.
If you say it does not need to follow legal process, why then did the president recently write to the National Assembly to put it in the budget? As far as I'm concerned,  that was an admission of guilt. The relationship between the executive and the legislator is always frosty and this is not peculiar to Nigeria. I have served under two presidents and I have gone through this.  The executive must go out of its way to court the legislature. It's got nothing to do with pride. A Yoruba proverb says it is a man that has purpose in life that will work towards the successful implementation of his purpose.  ("Alatise la mo atise are e ".)
It is the executive that executes projects,  but the power to give approval for execution of the projects resides with the legislature. The dexterity of the executive in coming to a consensus with the legislature is what will show the proficiency of those that head the executive arm of government. Personally,  I'm extremely very proud of this 8th Senate. And I believe sincerely that it has done more to protect democracy than its predecessors. In the moment of severe stress when the president was ill and even friends of this administration wanted the president removed, the Senate stood its grounds and stabilised the country. The Senate stood as bulwark and did not allow our thinking and frustrations to override it emotionally.
I must give a lot of commendation to Dr. Bukola Saraki, the Senate President. In my opinion, he is the most cerebral of all the Senate Presidents we have had. We have in him a quintessentially sane, focused and cerebrally balanced young man that has the control and respect of his colleagues. If not for that fact,  we would probably be in much more serious trouble by now. Look at what happened last week when people genuinely raised the expenditure of the executive without consent of the National Assembly.
It is an impeachable offence. But look at the dexterity and maturity that was applied by the Senate President that was devoid of indecorous behaviour because of the confidence that his colleagues reposed in him. He was able to manipulate and douse the tension by taking the issue to Judicial Committee. That is the hallmark of a true nationalist and a leader. This is a man that is being vilified by the same executive. I don't think leadership comes better than that. Having said that, the executive needs to do much more. It has nothing to do with personality clashes.
The invasion of the Senate has been described as an assault on the nation's democracy. Do you agree with this?
The Omo-Agege saga is what any right-thinking Nigerian must condemn. It is indecent, indecorous, condemnable and beyond reason. When we continue to compromise our institutions and they become ineffective, we can no longer keep complaining. What happened on that day is a memory that God should blacken out of our minds. It is the height of ignominy and if Omo-Agege is someone that has self respect, he should by himself leave the Senate.
Contrary to people's belief, he was not suspended because of the reordering of election sequence,  he was suspended for taking the Senate to court. He came to apologise on the floor of the Senate for certain things he did wrong and went to court on the same matter. There are certain issues that we must not allow partisanship to erode our conscience because those who are there today may not be there tomorrow. But the institutions will remain. What is not good is not good.