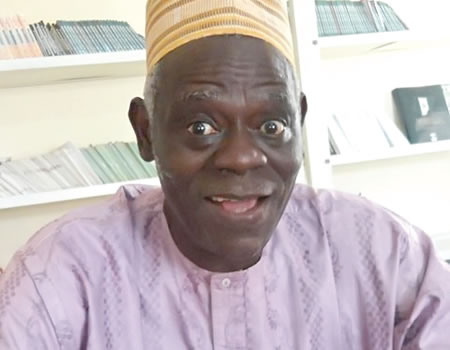 Anthony Sani is the General Secretary of the Arewa Consultative Forum (ACF). He speaks with MUHAMMAD SABIU on Nigeria at 57. Excerpts:
Has Nigeria achieved the objectives of the founding fathers?
The objectives of the founding fathers were for a Nigeria that is socially diverse,economically empowered and politically active. To that extent,one can say the country has moved albeit at slow pace. For examples,the number of educational institutions now is by far more than what we inherited at independence. We had only five federal universities and one state University at Ife at independence. The same with Unity Schools, which were about five at independence, but are now found in each of the 36 states.
Compare the number of federal medical and health centers and teaching hospitals with what the nation had at independence. Note also we had only four regions at independence serving 55million people compared to 36 states now serving about 170million people. We have moved the federal capital to Abuja.All these are testaments to the fact that we are moving,though slow compared with our peers outside Africa.
The down side has been the high infant and maternal mortality rates,low life span,high poverty rate that go with unemployment. There are also problems of infrastructural decay,poor power and energy and undeveloped agriculture.As a result,we still thrive in primary commodities because of lack of industrial drive.
The nation still imports its fuel, despite being an oil producing country. The railways,shipping line and airline have all collapsed due to failure of leadership. We also have security challenges posed by the insurgence,kidnapping,armed robbery,baby factory,ritual killing,the herdsmen phenomenon and the threat of secession from IPOB. All these tempt some people to conclude that Nigeria is beyond redemption.But this is not correct,since the challenges of all countries that include our peers are not the same. The examination questions for the countries are different.
And so,when you balance the ups and downs,you would hardly avoid the conclusion that we should count our blessings one by one.More so that at 70,President Muhammadu Buhari has promised to make Nigeria feel young again with promise of glory days ahead,and is working on it. I believe our challenges are not beyond redemption.
The dream of the great Sardauna, Ahmadu Bello, was to establish a fully developed Northern Nigeria that can match any modern civilisation in the world. Have these dreams been realised?
Yes, the great Sardauna dreamed of bringing the people of the North together so they could unleash their synergy against collective challenges for common good. This was because he believed it is possible to make the most of God-given diversity by working hard to overcome what divides the people. Towards that end, he grouped the over 250 ethnic nationalities of the North together and called them Arewa in order to underscore the Northern unity which he considered sine qua non for any meaningful socio-economic development.
But the Sardauna would not be totally happy in the grave to hear that the North he left behind is at war with itself as symbolised by activities of Boko Haram, herdsmen phenomenon and cattle rustling as well as promotion of cleavages of the North along religious and ethnic lines. The good news is that both the leaders and the led are beginning to realise that cleavages of the regions is in nobody's interest. Hence the determined effort by both to work hard and overcome the collective challenges.
What are the problems with Nigeria and how can they be overcome?
The problems of Nigeria has to do with collapse of the national ideals and moral values which have blighted our senses of social contract and sense of what is right and what is wrong. Instead of promotion of national solidarity that goes with relative pluralism and social justice,Nigerians have become very individualistic and narcissistic in favor of promotion of insular particularism with strong historical ties to places. This is unhelpful.
All that is required for Nigeria to be on the path of socio-economic development is for Nigerians to come to terms with reality that the era of oil wealth, which is not result of hard work, has gone away in favor hard work that is the only path to success-and for good. No more money to steal. Necessity,they say, is the mother of invention. Once Nigerians accept that it is corruption that has stolen their empowerment, their opportunity and there future and resolve to make judicious use of their democratic rights and make sure their votes count so that the ensuing leadership would be accountable, then the problem is solved halfway.
With some other European and Asian countries that Nigeria had economic advantage over in the 70s and early 80s now miles ahead, do you think the entity called Nigeria should be re-negotiated by all ethnic partners to chart a better course for it?
The problems of countries are not the same; the examinations are not the same. It is, therefore, not realistic to compare Nigeria with Asian and European countries. This is because their culture,their values and attitudes are different. It is better to compare Nigeria with African countries which ethos is self-same with ours.
Ethnic nationalism is divisive. So, any discussion based on ethnic nationality will divide the country the more. This is because it is not possible for all the 371 groups that constitute Nigeria to be represented in the government at the same time. After all,even God does not give rains to all communities under the sun at the same time. We are supposed to promote relative pluralism that go with urbanisation and inter-ethnic marriages. This can happen if we accept that the good things like order,justice,liberty,peace,common decency and prosperity for all,are never natural order of things but attained through ceaseless hard work by both the leaders and the led. It is defeatist for Nigerians to allow temporary challenges to redefine their destiny and set their agenda. After all,the process of nation building is work in progress.
Once again, I wish to say President Buhari, like President Reagan, has his shortcomings. But on a balance -like Reagan, he has what it takes to make Nigeria feel young again with promise of glory days ahead.
You May Also Like: