Nigerians living with disabilities protest, demand Presidential assent to bill
Insist NASS transmitted Disabilities Bill to Presidency December 18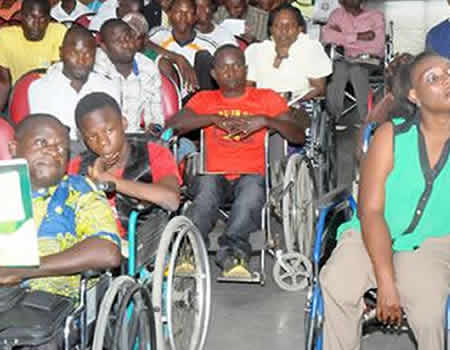 FOLLOWING the claim by President Muhammadu Buhari that he is yet to receive the Nigerian Disabilities Bill passed by the National Assembly, hundreds of Nigerians living with disabilities stormed the streets of Abuja to protest the delay in assent to the Bill.
Executive Director of Centre Citizens with Disabilities (CCD), Mr David Anyaele, who led the protest insisted that the Bill was transmitted by the National Assembly to the President on 18th December 2018.
He said it was wrong that the aides of the President were not feeding him with the right information.
President Buhari had on a televised 2019 election debate Wednesday night, denied receipt of the Bill when the anchor of the programme asked him why he refused to assent to the Bill.
Anyaele said: "The National Assembly graciously honoured our demand for speedy transmission of the Disabilities Bill during our protest on 10 of October 2018. On December 18, 2018, the National Assembly transmitted the Bill the President for assent.
"Today (17th January 2019) is 29 days the Bill was transmitted to the President and we are asking him to sign the Bill without further delay," he said.
Anyaele recalled that on 21st of March, 2015 during the President Buhari's campaign in Lafia, the Nasrawa State Capital, at a stakeholders meeting, Buhari had promised to work with the National Assembly to sign the Disabilities Bill into law.
He added that the manifesto of the All Progressives Congress (APC) also recognized the need to work with the National Assembly to secure legislation that would protect persons living with disabilities from harmful practices.
He said arising from the protest of 10th October 2018, the Senate Leader, Ahmed Lawal raised a motion for the speedy passage and transmission of the Bill, saying that the motion was honoured and action was completed on it and sent to Mr President for assent.
He, therefore, appealed to the President to sign the Bill without further delay because that was the only way the people living with disabilities could benefit from his programmes and in keeping with his electioneering campaign.