Since Africa's first Nobel Prize for Literature winner, Professor Wole Soyinka, blazed the trail in 1986 by taking home that prestigious prize, the seed sown has spawned several other acorns scattered all over the land.
Nigerian writers in different genres of literature have been persistently pushing the limits of creative writing.
Ben Okri, Chimamanda Ngozi Adichie, Nnedi Okorafor and several other young writers from Nigeria have shown through their works that another Nobel Prize may just be around the bend.
Another promising writer, Bode Asiyanbi, has been making demands on the literary world. He has won, for the third time, the BBC play-writing award.
Prophet who prophesied Atiku's Presidential victory rejects result
Asiyanbi is the writer and the brain behind the story of 'Chief Daddy' that was filmed by Niyi Akinmolayan and produced by EbonyLife Film.
He won his third award in play-writing from BBC International Play-writing Competition shortly after the cinema release of 'Chief Daddy.'
The trained Biochemist and graduate of the Obafemi Awolowo University, Ile Ife, ended 2018 on a high by winning the Georgi Markov prize for the most promising script, in the BBC International Play-writing Competition.
EbonyLive TV's premiere of 'Chief Daddy' drew over 40 movie stars.
The BBC play-writing prize is in honour of the BBC World Service journalist and writer, Georgi Markov, who championed freedom of creative expression.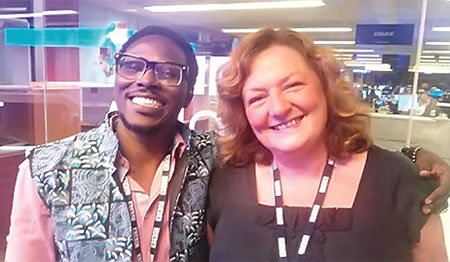 According to the BBC, Bode's interest in writing grew after he was selected as one of the winners in the now defunct BBC African Performance radio drama series.
In 2005, he won the BBC Africa Performance Play-writing competition with the play 'Big Dialed, and his radio play, 'Shattered' won the 2011 BBC African performance play-writing competition.
Born in Osogbo, Osun State, Bode Asiyanbi studied at the Obafemi Awololwo University and Lancaster University, United Kingdom.
He was for many years writer and editor for BBC Media Action on its groundbreaking radio and television drama series, Story Story and Wetin Dey, as well as for the 'Save the Children' developmental documentary.
He presently works with various M-Net African Magic's comedy and drama series as a writer and story editor.
His plays have also been broadcast on the BBC World Service.
Asiyanbi's short stories have appeared in Munyori Literary Journal, Kalahari Review, Wobbled Words Anthology, and Per Contra.
His stage play 'Shattered' was performed at the 2013 British Council Lagos Theatre Festival, and his short story, 'The Diagnosis' was a winning entry for the British Council Lagos Theatre Festival 2014.
His poems also featured in the anthology of contemporary African poetry, 'A Thousand Voices Rising'.
Asiyanbi's plays 'The Wait' and 'One Chance!' won the British Council LTF 2016  and 2017 Playwriting Prize, and his poems also featured in the anthology of contemporary African poetry,  A Thousand Voices Rising.
Bode describes himself as "a wandering troubadour from a long line of village weavers and palace bards; spinning coloured yarns, seeking out lost songs and singing them out from rooftops."
He is interested in exploring trauma, identity and the place of memory in history.