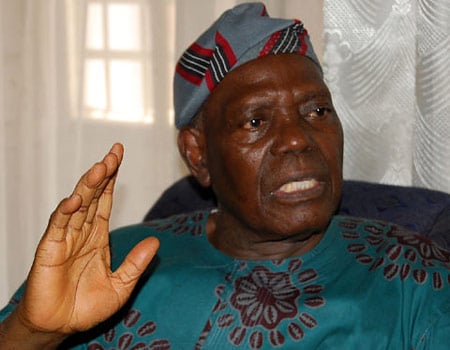 The former interim national chairman of the All Progressives Congress (APC), Chief Bisi Akande, on Monday expressed worry over what he described as the pervasion of military mentality in the Nigerian political system.
He said the operators of political system and the Nigerian political parties were still operating with the military mentality of "governance with impunity".
Speaking during a meeting of Yoruba Patriotic Movement held at his Ila Orangun country home, Akande, who is also a former governor of Osun State argued that the military's orientation of controlling the political parties after leaving power was still being practice by the democratic government in the country.
He observed that when the military left government, its agenda of controlling the political parties was achieved through various electoral regulations since most political operators learnt under the military.
While maintaining that political parties should be independent of government legislation, Akande said the existence of political parties should be seen as political entity and not a government structure, lamenting that the military introduced governance with impunity into the government and the political parties.
According to him, "political party grew in hierarchy system in those days; whether you are tailor, bricklayer, carpenter or whoever, you must learn politics through your political party. You cannot just rise up and say you want to become this, you want to become that in the party. You must learn first. Political party was a leadership training ground".
"But the military deliberately killed that system. The military wanted to be controlling the political party after they left power. The military created political party like NRC, SDP during Babangida's time; we would remember the five leprosy fingers of General Sani Abacha. After they left government, they made regulations for the political parties through the civilian government".
"Up till date, military mentality still pervades our political system. Unfortunately, those who knew the military plan have left the political party leadership. Majority of the people at the leadership level of the political parties are those who grew or learn politics in the military arrangement", Akande posited.
Commenting on the degeneration of 'core value' in Nigeria, particularly in Yorubaland, Akande said it was difficult to get a sincere and good future leader among the youths, since the recruitment of such leaders is from a debased background.
He said: "The core value system is no more in place. We have a mixture of the negative and positive tendencies among the youths. The negative tendencies are more than the positive ones. How do we get sincere and good future leaders in the present society?
---
---