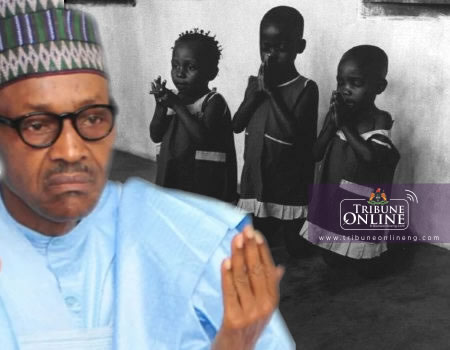 Orphans from across the country on Thursday offered special prayers for the quick recovery and good health of President Muhammadu Buhari.
The orphans, who were drawn from the 36 states and the FCT, prayed for God's intervention for the quick recovery of the president in Abuja.
The prayers, which were offered in the Muslim and Christian faiths, saw the children praying fervently for the quick recovery of Buhari and the nation.
Chief Samuel Pukat, the initiator of the programme, said the programme was to pray for God's mercies on the president and give him quick recovery.
"Base on what the orphans stand for, in the Bible and Qur'an, they have special place in the heart of God, so we decided to bring them together to pray for the president.
"The politicians have prayed; the rich and poor have also prayed.
"Various people have prayed with different intentions in their heart but these noble ones, children, whose hope is in God and have nothing in their heart have also come to pray.
"We decided that these ones that have a heart that is closed to God come and pray. We gather them from different states and today they are here to offer prayers.
"We believe that as they called on God something very important will happen to our prayers and he (Buhari) will recover and returned `hale and hearty,'' he said.
The News Agency of Nigeria (NAN) reports that the prayers were led by the Deputy Imam of Abuja National Mosque, Dr Kabiru Mohammed, and Bishop Musa Fomsin of Unlimited Masses Church, Jos.