Her physique not only draws attention to her, but it has also become her selling point in the music industry as she has become a sought-after Juju musician. Atewogbola Funmilola, popularly known as Queen Funmi, in this interview by SEYI SOKOYA, speaks on her 20 years experience in music performance, among other issues. Excerpts:
You have been much active lately on social media. What is new about Queen Funmi?
I have always connected with my fans on the social media platforms, but the dimension has been different lately. I have been able to made them realise that I have eventually listened to their request in coming up with a platform that will make us connect more, as well as associate with notable faces, especially some veterans in the industry. This is why I have launched a media campaign meant to inform all and sundry about my forthcoming double event; the launching of my new album and the celebration of my 20 years experience in music performance. It is a good thing to celebrate one's success and achievements in life. This is why I have decided to bring my fans and colleagues together to celebrate and thank God with me for a successful journey.
20 years down the lane, how has the experience been?
It has been interesting. As a musician, one would pay a lot of prices. I think I have been able to pay my dues in the industry. Though 20 years in music is not what one needs to rejoice about music, because we still have people who have spent much more than that time in the industry, especially our legends, with all respect. But one must thank God for where we are today. It is a phase and we are moving on. I have experienced a lot in the industry; the good, the bad and the ugly, but it is all to the glory of God today, because we are still standing tall.  Is it about countless of free shows, challenges of renting music instruments to events despite the fact that one won't be paid? But all that has become history. We thank God that we now get paid for whatever service we render. We perform at all kinds of events and we have received several commendations and recognitions so far.
Reps pass bill on prohibition of estimated billing
How did you discover your passion for music?
It has always been my joy to sing, even from a tender age. The passion for music became obvious when I was 10. Music was never  a strange terrain for me. It all started in my dad's church and I was encouraged to develop the passion and talent. With time, I took it up professionally and here we are today. We are not only singing, but we have been able to use it to impact lives in many ways.  It is a delight for me to be among the musicians to be reckoned with in the industry. Though, I see it as a great privilege and I appreciate God for that.
Juju music seems to be a male-dominated genre of music. What made you crave for this line of music?
I did not get this far as a result of a fluke. I found myself to be more comfortable in this facet of music. I have been able to carve a niche for myself in it. Though it may look difficult to many, but as for me, I flow and draw inspirations through it. What I do is not really different from other juju musicians, like the king of Juju music, King Sunny Ade; the only difference is that I have been able to brand my music by adding gospel, which I tagged as Gospel Juju music. I think the more reason I was able to achieve this is because I love it right from my childhood. I listen to Sunny Ade, Ebenezer Obey and Sir Shina Peters; they are my mentors. I have never entertained any fear on whether I will eventually have a headway in this field, the coast is clear and God has really favoured me and surrounded me with good people in and outside of the industry. This career has opened many doors for me. I have close relationship with veterans and notable musicians in the industry, such as K1, Yinka Ayefele, among others and I have really enjoyed a father and daughter relationship.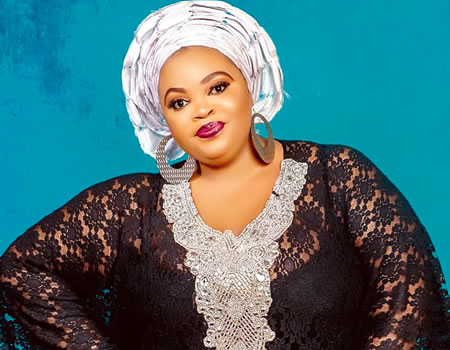 How will you react to the fact that many hardly reckon with you as a gospel singer?
The fact that I infuse Juju into gospel doesn't make me to be seen as a secular musician. This is what I know how to do best and I am happy to be a gospel singer. We cannot all face a particular direction. There must be diversity in the industry. We can explore our talents in any way, but the major thing is to pass the gospel message across according to the commandment of God. The combination of Juju and gospel makes it Juju gospel. It is not a different thing entirely.
I am a gospel musician; we perform in churches too and use our music to win souls. At present, I have five albums to my credit, which also has gospel messages. I guess the fact that I have close relationship with many secular artistes doesn't call for such insinuation. I love and respect people, especially the elders in the industry. I see everyone as one entity. I don't think there should be discrimination because what we do is not different from what every other musician does. We need to embrace unity and peace irrespective of the genre of music. Everyone needs to be conscious of what they do or disseminate. I am a gospel singer and at the same time a member of the Performing Musicians Association of Nigeria (PMAN). I have a close relationship with both gospel and secular musicians.
How did you come about your stage name?
I discovered that each time I appear on stage, people call me 'queen' and it was gradually accepted by my fans. Now, they call me Queen of music.  So, it came naturally and I think it is nice to be regarded as a queen, because it is an indication that my music is accepted as well as have a great impact. The name suits me and I have been able to blend in that line. So, I love to dress, sing and perform like a queen.
What is your assessment of the industry?
It is growing, but by my assessment, I feel it is overcrowded. There are too many copycats. The industry is not sanitised and this is affecting genuine musicians. This is why I have always been myself. This is the key and with which one can be unique and survive in the industry. I also discovered that there is more maturity in the system unlike before. Everybody is minding his or her business and pursuing their career.
How has your stature influenced your career?
I love myself to a fault, especially with the fact that I am big and beautiful. My stature has never been a barrier. Instead, it has become a plus for me. I love my carriage, especially on stage. One cannot imagine what I can do with my body some times. I sometimes wonder within me that I don't get tired easily. In fact, those with small stature cannot dare what I can easily do; I lift myself, dance a lot better and walk faster than the slim ones. Some don't believe it is natural, but I made them realise that that is how God created me. It is not as a result of intake of heavy meals or enlarging myself to this extent. This is how God created me and I love it. Like I said earlier, it has been a great influence to my career; it gives me a leverage to follow on stage as I am really very obvious whenever I am on stage. It makes my fans to connect my voice with my  person without stress. I know I draw people's attention easily; I cherish my big stature, because it makes me conspicuous and also opens doors of opportunities for me.
What should your fans expect from your concert tagged, Masun?
It would be a great time to bond and associate with my fans and stakeholders in the industry. It is a double celebration and I am ready to give all to my fans fun. Notable artistes including, Jesse King (Buga); Saint Janet, Dele Taiwo, among others will add fun to the event on October 20, at Mauve 21, Ibadan, Oyo State. I promise they won't regret they attended.