Nigerian govt is rewarding criminality —Olajide
Dr Kunle Olajide is the Secretary of the Yoruba Council of Elders (YCE). He speaks with KUNLE ODEREMI on the security situation in the country and other issues of importance.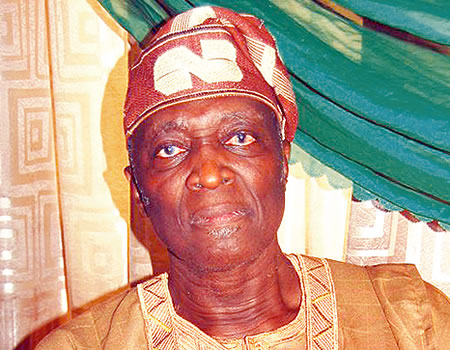 WHAT do you consider as germane issues in the polity these days? 
Number one is insecurity and that is very frightening. But in the last few weeks in the South-Western part of this country, we have relative peace from kidnappers, armed robbers and so on. Secondly, I am worried about the handling of insurgency in the North-East and the plan to set up a commission for 'repentant' Boko Haram fighters which is completely absurd and unacceptable.
Why?
Firstly, the war is still raging; they kill and maim on a daily basis. You don't consider amnesty anywhere in the world until the war is over and you have established conquest. In other words, one party surrendered to the other. That is when you consider amnesty or an international organisation, a non-partisan welfare, comes to broker peace. Then, you think of amnesty on both sides.
But almost on a daily basis, we have been threatened by Shekau or whatever they call him and he threatened to capture our president; he cannot.
And in any case, you talk of de-radicalisation; it cannot happen in three, six months or one year. Unemployed youths who are aggrieved and who have taken part in the plunder and massacring innocent babies, mothers and men; they now pretend to surrender and you take them to camp and said you have de-radicalise them. You want to radicalise them straight into the society. Human rights doesn't work like that.
First and foremost, they are going to or they should have their informant on the Boko Haram men. Secondly, even if their leaders should pretend to have surrendered, you get them into the camp and after a few months, you now want to rehabilitate them. I think the proposed bill went further to say they would give them money to go and start businesses. So, what you are saying in effect is that those unemployed youths should join Boko Haram and after a few months, they would have killed many people and they would come back and say they have repented.
You don't fund insurgency yourself and the Federal Government should have it in mind that it is federal money that is being used to fight this insurgency and to fund the rehabilitation camps. That is the money that belongs to all parts of this country.  And Boko Haram is a direct product of mis-governance in the Northern states. I have said it often times.
How?
It is a clash between feudalism which is preponderant in the Northern states, right from pre-colonial days and globalisation now which is indicated by technology. In other words, those who believe that they were born poor and they want to die poor now have the access to technology and GSM communication and all that.
So, it is a clash between feudalism and globalisation. And you cannot stop globalisation. Every day, technology is improving. The world now is a small village, but all Nigerians have been made to pay for what I term, not only me anyway, because the emir of Kano, Sanusi, has made it clear, that when Awolowo concentrated on education, his people sat back and revelled in feudalism, believing that it was military power that would continue to dominate the entire world.
Now, we are having the benefits of the education in the South-West and it is clear and obvious. But the Boko Haram people are filling everywhere and coming to destroy our peace here. So, we should not hear anything about the bill at all, as far as I am concerned.
What do you think would happen? All of a sudden, somebody just woke up and thought that the next thing is to have that kind of commission. Before he said that, the Federal Government had already been releasing these people from the camps and said they were de-radicalised and even absorbing them into the Army which was wrong in the first instance.  Often times, one got confused weather the Federal Government is sincerely fighting Boko Haram.
With benefit of hindsight, you know there are top officials of the present administration that have, at one time or the other, defended Boko Haram. You begin to wonder what is going on. It is because they have been released that the senator has the audacity to say 'look, let us set up a commission.' You are setting up commission, increasing the bureaucracy of government when we are agitating for the reduction in the cost of governance. We can see the contradictions in the polity.
Are you saying there is a reward in committing crime?
Precisely, that is the meaning, rewarding crime and insurgency, murder, destruction and arson.
What are the implications?
The implications are tremendous. I was appreciating the fact that not fewer than 80 per cent of our youths are roaming the streets, especially in the Northern part of this country.  When they see that the people who rebel against the system and committed murder being treated with kid gloves and, in fact, being funded to become their master, when they see the rewards of fighting against the system and killing innocent people, they get encouraged into crime.
Secondly, instead of the Federal Government and the various state governments concentrating on human capacity development, improving education facilities, compelling parents to educate their children, sanctioning the parents who failed to do so, now, they are promoting insurgency.
There are lots of dangers in it for the entire country, more so, for those areas and the entire country, because they spill over here.
Some people have tried to compare the commission to that of the amnesty programme that was created for the Niger Delta militants. Do you see any…?
It is completely parallel, because there is no basis.
Why?
You take 85 per cent of the revenue of this country from the Niger Delta region; you pollute their farms and their water and killed their fishes (their professional occupation). The ecosystem is completely destroyed with long-time effect on their health. Most of the oil blocks, if not all, are allocated to the Northerners who don't even know the colour of crude oil, who have no idea of where it comes from and they sit in Abuja expending the money as they please without developing the area that is producing the resources. That is why the Niger Delta militants rebelled and rose up against further exploitation of their resources and destruction of their areas.
They were kidnapping the expatriates that were destroying the areas. They were not killing anybody.
But what do we have in the North-East? It started with, so they say, the governor who had Muhammed Yusuf and used him for electioneering purposes. And I think he made him or attempted to make him a commissioner and the young man refused and he saw him go into office, enjoying the luxury of office. And, of course, there were a lot of people who are jobless and hungry; he recruited them and they started fighting the system in the name of religion, in order to be able to attract sympathy from Muslim organisations all over the world, the Islamic State of Iraq and Syria (ISIS) and the Islamic State of West African Province (ISWAP) and co. That had nothing to do with Nigeria. There is no basis for comparison at all.
On the Amotekun project, are we on the right path?
It is a welcome development. So far so good. We are on the right path, but I want to emphasise and reemphasise training and continued retraining of the personnel. You will agree with me that there is a mindset in Nigeria today, not fewer than 90 per cent of Nigerians, once they get an appointment in government, they think it is an opportunity to "chop" and job for the boys or exploit the position for personal gains. It is imperative that during training and periodical retraining of the Amotekun staff, we must make it clear to them that this is a child of necessity.
Two, centralised police system has failed us and people are being killed and our women are being raped. This is not another outfit like the police in extorting, harassing and intimidating innocent citizens. The training must take away that mindset completely. In other words, they must be adequately trained and periodically trained in different sessions. They must be having some seminars to educate them, supervision at various levels, ward levels, local government and state levels. There must be adequate supervision by various supervisors whose numbers are available for everybody. So, when anybody misbehaves, you can contact the supervisor immediately. The numbers must be clearly written on the crest of all members of this outfit for the purpose of identification, which is very important.
What are the processes of recruitment?
Firstly, the background of anybody to be recruited must be carefully sorted out. They must trace the background to know the background of who is being recruited. You can't recruit a criminal and don't expect perpetration of crime even in the organisation. You must be able to trace them to their homes. We want indigenous Yoruba citizens. We must know their place of birth, their village, their farm; heads of their community must certify that they are sons of particular areas of villages. They must be traceable.
Qualification is important and why?
It depends on the level. Level of supervision, yes but, level of the grand force, no. In my own imagination we are going to employ hunters, farmers and those who understand the terrain of their areas, because they must know the forests that have been invaded. We don't stipulate educational qualification for this level. For me, at that level, we may not insist on academic qualification. Definitely, at the supervision level, they must be able to read and write.
There is this argument that Amotekun personnel should have prosecutorial power, that is the power to prosecute those arrested and, perhaps, carry arms. What are your positions on such issues?
Prosecutorial levels are not particularly about that, because their duties are to prevent crime, arrest perpetrators of crime and hand them to the police. Their supervisors will do that, take perpetrators from them, hand them to the police, document the handling over and let the public know; let the hierarchy of the organisation know; and then, let's wait for the police to act.
Giving the history of the police, do you think…?
They are attempting to sit up now, because I think Amotekun is making them realise they would be called to task. Look at what happened in Sagamu. Once you have begun to introduce prosecutorial power… we are just starting and when you start an organisation, you take some few faults.
So, you don't overload them, otherwise the thing will not be effective. Carrying arms…, of course, hunters carry guns. You and I cannot ascertain the criminal tendencies with regards to people being recruited into the place. You and I know that sometimes, police lend their AK-47 to criminals.
We must be very careful. For me, let us start at this level, get them into all the communities and into the forests, prevent crimes and arrest perpetrators of crimes. When they see a strange face, they trace the person to where he is coming from, identify the person and report to the authorities.
From the processes that have been out in respect of instituting Amotekun as an outfit, do you see any lapse so far? Are there any area you would suggest one or two things?
I think the Federal Government is compelling them to make it just a state outfit; that cannot be enforced. There must be collaboration between the state outfits in contiguous states. In fact, I was very excited and that is why I wanted to appear before the Oyo State House of Assembly. That parliament was the same where robust debates were held in the First Republic where bills that put the West ahead of the rest of this country were passed. It is an emotional opportunity for me to commend the governors and the legislators and advise them to do a thorough job. It cannot be perfect. But as we go along, we will continue to amend the lapses. It is imperative that we start as soon as possible, for we cannot overlook the training. Training must be put in the bill and recurrent retraining is very important from experiences gathered in the field, because we will see some misbehaviours here and there; there will be complaints here and there. We might even want to improve their working conditions. There must be adequate motorcycles that can move all over the areas.
So, for me it is a very good start.
Let's talk about funding. There is handicap in implementing a number of projects, because of scarce resources. How do we tame this?
We know that they spend money, donating to the Nigerian police. There is hardly any state in the South-West, for example, in the last few years that has not donated vehicles to the Nigerian police. And you and I know that the centralised police has failed and it cannot work in any country as diverse and expansive as Nigeria. I don't think they should complain about fault, because security and welfare of the people are the primary duty of any government. They won't get as much as they want, but, at least, they should be able to be progressively funded. I would prefer them funding Amotekun to funding the Nigeria Police.
Is there a way that the corporate organisations can come in?       
Once you see the efficiency of the Amotekun outfit, I am sure public organisations will be interested, because they, as well as their establishments, companies, offices and shops have been protected. In fact, there should be governing bodies of the Amotekun in each state. All of us should support Amotekun; no amount is too small or big. Two thousands or even N1,000 in 50,000 places is a lot of money. They can raise funds, but they must first prove to us that the little they have put has been judiciously expended and we are getting results from the initiative. That is why we are encouraging people to come and put money into it.
Let's talk about the so-called rehabilitation commission being planned by a senator for Boko Haram members. If at the end of the day, it scales through the National Assembly, what happens?
I would be surprised, if it does. The cost of governance is too high; we are spending nothing less than 75 to 80 per cent as recurrent expenditure. Nowhere in the developing world will you have that. We should not spend more than 45 per cent as recurrent expenditure. We cannot continue to increase the federal agencies and commissions. In fact, recently, a former senator said the government spent so much money in setting up these commissions, but then, the government fails to fund the commissions to perform the duties they were set up to do. We don't need any commission. In fact, I heard this morning that the Mr President said we were going to set up another commission for humanitarian. No. what is the duty of the ministry of humanitarian affairs? It is absolutely uncalled for.
Do you subscribe to the plan to review the constitution?
I do not.
Why? Based on popular demand, don't you think that it is necessary?
We need a people's constitution. A bad tree can never produce a good fruit. The constitution you are about to review is written by about 20 people and that constitution, according to the late Chief Rotimi Williams, lied against itself by saying 'we the people of Nigeria.' You keep amending, amending and amending. How long would you keep amending? For me, every Senate that comes in and sets up constitution reviewing committee and votes billions of naira into it is creating another job for the boys. And, in any case, these people reviewing the constitution are some of the major beneficiaries of this fraud [of a ] constitution.
I said it in the Presidency, when former President Goodluck Jonathan was there, Southern leaders went to meet with him. General Adeyinka Adebayo and Bishop Bolanle Gbonigi went to him to speak for the South-West. I was there. When I rose to speak, I made it clear to Mr President that Nigerians were not happy with the executive, legislator and the judiciary. None of them could give us the constitution that would please us.
Why were they not happy will all the arms of the government?   
Are you happy with them? There is failure of governance in Nigeria. You don't need anybody to tell you that; it is obvious. When we are now the poverty capital of the world, in spite of the enormous resources we have. When our resources are untapped beneath the soil, virtually in all parts of this country, when we have brilliant human resources flying around the country in droves… That is failure of governance.
What then should we do to the constitution?
The National Assembly or the Executive should send a bill to the National Assembly to introduce referendum into our constitution first and foremost, before any committee is set up. When there is deadlock in the National Assembly, you revert to the people. We saw it in Brexit. Sovereignty belongs to the people; it is partial sovereignty we gave to our representatives.
So, there should be referendum in the constitution as it is anywhere in the world. That is the first thing we should do.
The second is a bill for the constituent assembly commission which will be set up and its duty is to set out the principles to elect members into the constituent assembly whose duty will be to go and write a new constitution for the people. The National Assembly's duty is to make law for good governance, amend people's constitution not military constitution. That is why they will go round and round amending constitution and we may never get there. For example, some of us believe in the 2014 national conference; it is in our resolution that we just need a unicameral legislature. For the simple reason that exclusive legislative list must not be more than about 15 or 20.
In the First Republic, it was 16; and now, it is about 66. The people reside in the state and local governments. So, the power must be in the state and local governments with the Federal Government looking after the foreign affairs defence, immigration, setting standard for education and so on. What is the Ministry of Agriculture doing in Federal Government that has no land and is in Abuja? They should just have a small office or commission for agric purposes. The Ministry of Agric must reside with the people. We need a brand new constitution.
The tragedy of Nigeria is the truncation of our democratic minds to progress in 1963 (military intervention) and unfortunately, oil boom.
The subsequent leadership we had was shuffled from indolence. Everybody is relying on federal allocation. It should not be. Each state should be able to explore and exploit its resources and deplore them according to their priorities. The priority differs as we move from one of the country to another.
And the constitution they are attempting to amend, the leadership recruitment in that constitution can never give us good leaders.
What is wrong with the leadership recruitment process?
Chief [Obafemi] Awolowo, to be the Premier of Western region, contested election only in Remo. He didn't come to Ibadan distributing money anywhere. He contested in Remo and became the Premier of Western Nigeria once the leadership of the party elected him as the leader. Tafawa Balewa contested election only in Bauchi constituency and became prime minister of the entire Nigeria. What do you have today to be the governor Oyo State? You must contest; go round; everybody should vote for you and you spend billions of naira. In the process, we have compromised. You would have compromise yourself.
So, with the leadership procedure if you want to become the president, you will spend nothing less than N100 billion, hire aircraft that you would fly over Nigeria, funding and attending rallies. In the process, we have compromised, whereas, all you need to do is to contest only in your community and if the members of your party say you are the leader, then, definitely, you are. That is why in 2014, our resolution said we ought to have mixed parliamentary and presidential system in which case you cannot be a member of the House of Assembly or a commissioner; 70 per cent of your commissioners must be members of the state Assembly who contested election in their various constituencies, who know their people and their people know them. You can allow 30 per cent people from outside.
The governor himself will be a member of the state House of Assembly. This leadership recruitment process mystifies the executive. The governor and the president are like god. It should not be in a developing economy.
Don't you think that there is the likelihood that they will succeed in the plan to review the constitution, in view of the fact that the panel, headed by the deputy Senate president, Ovie Omo-Agege, has promised to look at the report of 2014 confab?
At least, for once, that gladdens my heart. I don't want to be a pessimist, but I cannot see them saying you need only a unicameral legislature. I cannot see them saying the president and the governor must be a members of the Assembly, because they are beneficiaries.
We need a people's constitution written by people elected specifically to write constitution. That is why I said earlier that we should make law for good governance, oversight duties and amend people's constitution, not military. This military favours only the elite and that is why we have described Nigeria's democracy since 1999 as a democracy of a tiny political leadership elite by the tiny political leadership elite and for the tiny leadership political elite.
The police are now proposing  to implement their community policing idea. Do you think it should be joined with Amotekun?
They must not be subsumed under the community policing system. They can work together, but they must not be subsumed, because the community policing system of the Nigeria Police would still continue to take orders from Abuja. So, as far as the Amotekun outfit is concerned, they should take orders from their state headquarters and the regional headquarters. They must be completely independent of the police, but collaborate in the process of preventing, monitoring crime, as well as gathering intelligence and arresting people.
Why do you think the authorities of The Nigeria Police appear desperate to adopt community police now?
In fact, I have said it oftentimes that community policing was not in their budget presented to the National Assembly last year. So, it is a panic measure. To me, it is an ad hoc response to the Amotekun challenge and this is why they are so much concerned with community policing project. They have been talking about community policing for over four years.  Nothing was done about it. So, if they even have it now as far as we are concerned, yes, it is a welcome development. But the Amotekun outfit should operate independently, but collaborate with them in the performance of their duties, but not under the Nigeria Police.
The IGP said royal fathers will be involved in the recruitment process for community policing. How would reconcile that with the fact that the traditional rulers are to play a critical role in the Amotekun initiative?
Let's wait to see that happens. The traditional rulers are already playing key roles in Amotekun. My own reading of the situation is that the centralised police system is trying every way possible to undermine the effectiveness of Amotekun. But Amotekun should remain focused, completely independent of the police, but collaborate with them, as long as their intentions align with the intentions of Amotekun, but not by not taking orders from community police which will in turn take orders from Abuja. We must not allow them to use community police to checkmate Amotekun or weaken the effectiveness of the security outfit. Our people should own Amotekun. We know where we are coming from; we have a template for leadership inherited from Chief Obafemi Awolowo. We are going back to the golden era, where we took initiative in Nigeria.