Nigerian government needs more education around blockchain, digital currencies ―Ugochukwu Aronu, founder of Africa's first DeFi platform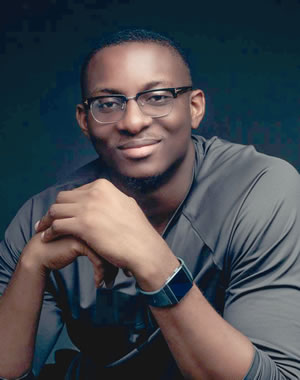 Owing to the rise in adoption of blockchain and cryptocurrency in the world, Nigeria-based Ugochukwu Aronu has launched the continent's first Decentralized Finance (DeFi) platform, Xend Finance, which provide individuals access to pool capital for the creation of their own credit unions.
In this interview by DANIEL ABEL, he speaks on how he achieved this feat.
What motivated you to create Xend Finance?
People work hard for their money. They shouldn't have to worry about their money being worth less every night they go to sleep. Xend Finance was formed from the need to protect the valuation of people's savings and contributions who use Fiat currencies in unstable economies, along with giving their savings the ability to earn higher interest rates through cryptocurrencies.
There's also been interesting developments in the world of crypto through decentralized finance, or DeFi, that allows people to earn compound interest on their crypto up to 15 per cent APYs. These are all developments that I wanted to make available to everyday people, who might not understand how to tap into these markets. We make it easy.
We experienced three massive currency devaluations in the last three years in Nigeria, which is not different from other economies in the world with unstable economies. My mother and I belong to different cooperatives where we save and make monthly contributions (Esusu) to help one another in the cooperative. Realising that despite saving regularly, we were becoming poorer and losing more value for our money.
This gave birth to Xend Finance. Xend Finance is built to save our money in stable currencies and also earn interest in that stable currency, hence protecting our assets. It is also designed to extend our contribution strategy called Esusu to a much larger audience without the fear of defaulting and also with the advantage of very high returns.
What is Xend Finance Token ($XEND)?
The native token of the Xend Finance ecosystem is the Xend Token ($XEND), which is used to reward users for saving, investing and performing different operations on the network.
The $XEND token is also used to govern the entire Xend Finance platform. By governance we mean that holders of the $XEND token can vote to change some parameters that determine how the Xend Finance platform runs.
Holders of $XEND tokens in the future will also share from the overall revenue generated by the platform based on certain revenue split formulas that will be made public.
How has the world and Africa in particular received the DeFi project?
The world and Africa in particular has seen this as a major paradigm shift. A lot of Africans are moving from their existing savings platforms in fiat currency to our DeFi platform because it gives them a much more stable asset, as well as higher APYs with unrestricted control over their funds. We have our second largest audience from Africa.
The larger tech and crypto world have noticed the huge potential offered by Africa and of Xend Finance, as we have received regular coverage from Coindesk and tech's top news outlet, TechCrunch.
What were some of the challenges you faced while trying to create the DeFi platform?
Complexity of building on the blockchain: This is usually the first major hurdle in creating any DeFi project
Lack of blockchain engineers in Africa: There are only a handful of blockchain engineers in Africa
Building a community: The community is a core part of every DeFi project. Having a great community improves the chances of your project's success as the community members are investors and also promoters of your project.
Access to the right investors and partners: In the blockchain space, there are so many investors but having the wrong investors will greatly affect your project in the future, so selecting the right investors who are there for the Long term was a difficult task. Fortunately, we count Binance as one of our investors, and they have been instrumental in knocking down a lot of barriers and garnering us greater access.
How long did it take before Xend Finance could fully public launch?
It took approximately nine months before we publicly launched.
What are the reactions you've gotten so far? Have Nigerians responded positively to the initiative?
The reactions are amazing. Nigerians have been one of our biggest users. Nigerians have voluntarily committed to the development of the platform as well as community development. We are getting great feedback and support from Nigeria.
According to reports, Xend Finance is worth about $3 million is this true? How were you able to pull this off?
Actually that number is not correct. Xend Finance has an overall worth of over $250 million dollars but a market cap of $25 million. You can always view the updated numbers on coinmarketcap.com.
What do you think of Nigeria's current response towards blockchain and digital currency?
I think the Nigerian Government needs more education around blockchain and digital currencies but I am very happy that Nigerians are quickly adopting it and we are the fastest country with crypto adoption in Africa.
What role do you think Africa and Nigeria, in particular, will play the future of DeFi?
I think Africa and Nigeria in particular will determine how fast the adoption of DeFi will be globally. Africans are the ones that need DeFi the most in the world. We have very deep financial problems that were caused by the failed centralized traditional financial systems which have plunged the majority of Africa into extreme poverty. The adoption of DeFi will give us access to global wealth without any restrictions.
How do you think Xend Finance's launch will affect the country's economic growth and response to blockchain?
Xend Finance's launch shook the African financial startup ecosystem as a result of how successful the launch was. This response was amazing and we have seen a lot of Nigerians moving funds into our protocol to protect their assets and also earn high yields in stable currencies and this will lead to an explosive growth in the country's economy.
We are proud to represent Africa and Nigeria in bringing DeFi and crypto to greater audiences around the world.
You studied in Nigeria; did this have any impact while creating the DeFi project? What made you study this course in the first place?
I studied in the University of Nigeria Nsukka. I experienced multiple devaluations of our Nigerian Naira and it really affected everything about me. $1 was worth $150 naira when I got into the University in 2010. 11 years later $1 is worth about $490 naira. This drove me to look for alternatives to protect my assets and savings. I studied Electronic Engineering because I wanted to follow the footsteps of my immediate elder brother and I did not want to be a medical doctor because that was the only other alternative.
What has your career journey been like? What drew you to blockchain? Who are the individuals that inspire you in the blockchain industry?
I have been building software for over seven years. I worked at KPMG doing vulnerability assessment and penetration testing. I moved on to work at Lloydant Business services where I built software for schools and financial institutions before starting up my own software company.
I really got to know about the blockchain when my colleague who was doing his masters in the University of Jyvaskyla in Finland told me about blockchain technology in late 2016 and that I could write code that runs on the blockchain. I felt it was a really cool Idea to write code and deploy apps on something as complex and groundbreaking as the blockchain. I started working checking out websites that held cryptocurrencies like Bitcoin and Ethereum and found Blockchain.info. I was developing some test DApps while also building my own Bitcoin wallet from ground up because I really wanted to understand how everything worked.
In the blockchain industry, I am inspired by CZ (Changpeng Zhao) the CEO of Binance. Binance was one of our first investors in Xend Finance and they have given us a lot of support.
Do you plan on creating other blockchain-related projects soon? What is the projected future for Xend Finance?
Yes, I am an engineer and I will never stop building cool things. I will keep working on more blockchain-related projects and I have some already hitting the blockchain space very soon.
I also advise different blockchain projects in Africa to help them navigate some difficulties I faced when I started my journey. I have also started investing in both blockchain and non-blockchain startups, but with preference to blockchain because we need a lot of development and support going on in the space and we need engineers who can do this. The projected future of Xend Finance is to have over 10 per cent of the overall AUM of credit unions and cooperatives globally on our DeFi platform.
YOU SHOULD NOT MISS THESE HEADLINES FROM NIGERIAN TRIBUNE
We Have Not Had Water Supply In Months ― Abeokuta Residents
In spite of the huge investment in the water sector by the government and international organisations, water scarcity has grown to become a perennial nightmare for residents of Abeokuta, the Ogun State capital. This report x-rays the lives and experiences of residents in getting clean, potable and affordable water amidst the surge of COVID-19 cases in the state…Zenith bank displays resilience  Zenith bank displays resilience
Selfies, video calls and Chinese documentaries: The things you'll meet onboard Lagos-Ibadan train
The Lagos-Ibadan railway was inaugurated recently for a full paid operation by the Nigerian Railway Corporation after about a year of free test-run. Our reporter joined the train to and fro Lagos from Ibadan and tells his experience in this report…Zenith bank displays resilience  Zenith bank displays resilience