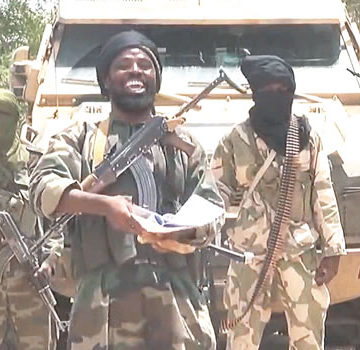 THE Nigerian Army has denied any knowledge of the whereabouts of insurgent leader Abubakar Shekau who was alleged to have fled to Cameroon by an online publication.
Army spokesman Brigadier General Sani Usman said that it was completely incorrect for anybody to quote the army on the runaway Boko Haram chief as being in Kolofata area of the Republic of Cameroon.
"The attention of the Nigerian Army has been drawn to a news story on an online news agency website [not Tribune Online,] alleging that the wanted purported factional Boko Haram terrorist group leader, Abubakar Shekau, is in Kolofata, Republic of Cameroon." Said Sani.
Quoting the online media, Sani said it was alleged that "A top Boko Haram commander, Abdullahi Bello alias Abu Zainab, who was captured by the Nigerian Army on February 14, has disclosed that the wanted factional leader of the sect, Abubakar Shekau, has escaped to Kolofata in neighbouring Cameroon."
Sani said that the Nigerian Army did not arrest any such person, neither did they have such a suspect in their custody adding that "Contrary to the allegation on the medium, the Nigerian Army is not aware of the whereabouts of Abubakar Shekau hence the reward of the sum of N3 million Naira for any credible information on his whereabouts."
He called on the general public and media practitioners to always authenticate or cross-check their facts and information from the Nigerian Army before publication or circulating same.
ALSO READ: Our main thrust is to decapitate all terrorist factions ―Buratai
The Nigerian Army has warned that Shekau having lost his hold on camp zero has been going about in women's dress and coloured hijab to escape capture from Nigerian troops.